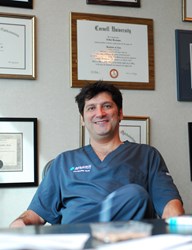 Cataracts can greatly impair not just one's vision, but also their day-to-day life.
West Hollywood, CA (PRWEB) January 29, 2014
In a recent article, Arthur Benjamin, MD board certified ophthalmologist of Benjamin Eye Institute, discusses providing premiere eye care through the use of new cataract care equipment. Dr. Benjamin strives to be the leader in cataract surgery by only using the best and most state-of-the-art technology. It is Dr. Benjamin's goal to provide his patients with the best care possible.
Currently, Dr. Benjamin is one of a select group of physicians that utilizes both Alcon LenSx and Abbott Medical Optics Optimedica Catalys femtosecond laser cataract systems to perform cataract removal. Both systems are designed to make the procedure less invasive and quicker, as well as provide optimal results.
"It is my top priority to provide the best quality to my patients, whether it is explaining procedures during a consultation or using the most advanced devices," said Dr. Benjamin. "By using the most state-of-the-art cataract devices, I am offering my patients better visual outcomes."
As well as utilizing the newest femtosecond laser cataract devices, Dr. Benjamin also uses not just one, but numerous different systems for lens emulsification (phacoemulsification). The devices include the AMO Signature, Alcon Centurion and Bauch and Lomb Stellaris. Each of the machines utilizes different technologies for cataract treatment and care. This provides Dr. Benjamin with the flexibility of choosing the best technology for each patient's unique set of clinical circumstances.
"Cataracts can greatly impair not just one's vision, but also their day-to-day life," noted Dr. Benjamin. "By having the latest and greatest machines, I am able to provide more relief and better restoration of vision to help them return to normal life."
Dr. Benjamin is renowned for his work as a cataract surgeon and as an ophthalmic surgeon. He strives to do what is best for his patients' eyesight, including utilizing the most advanced surgical devices to provide premium outcomes.
About Benjamin Eye Institute
Founded in 1998 by Arthur Benjamin, MD, Benjamin Eye Institute in West Hollywood, California, is Southern California's premier eye care center for all-laser vision correction and cataract treatment. A graduate of Duke University School of Medicine, Dr. Benjamin completed his residency at the prestigious Jules Stein Eye Institute at the University of California, Los Angeles.
Dr. Benjamin was the first ophthalmologist in Los Angeles to perform the innovative Acrysof ReSTOR IOL procedure that offers cataract sufferers and presbyopic patients restoration of normal vision without the use of reading glasses or prescription lenses. For more information about Benjamin Eye Institute, visit http://www.benjamineye.com or call (310) 275-5533.