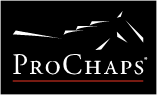 Tack'n'Talk, interviews from acclaimed equestrian athletes and professionals, and of course, lots of good ol' horse talk.
Montreal, Canada (PRWEB) January 29, 2014
ProChaps, a leading innovator of equestrian riding chaps, is encouraging all horse lovers to enter in the 'I <3 ProChaps' Twitter contest hosted by Larissa Cox, creator and author of the Tack'n'Talk online equestrian blog. Together with Larissa, ProChaps is promoting their comfortable, high performance riding chaps by giving away one free pair to a lucky winner who will be announced once the contest is over on Valentine's Day.
As a leading equine influence on Twitter and well known trainer, Larissa Cox has a Master's Degree in Equine Science from Royal Agricultural College in England. She frequently shares her thoughts and expertise on her blog Tack'n'Talk, an equestrian resource sharing helpful articles on nutrition, equine health concerns and management strategies, overviews of key industry events, as well as interviews from acclaimed equestrian athletes and professionals, and of course, lots of good ol' horse talk.
ProChaps has pioneered combining extra light knits, compression materials, waterproof leather and dynamic engineering.  This hybrid combination helps accelerate blood flow, allowing the rider to perform in a very balanced and accurate way. This aids in getting more oxygen to the working muscles and boosts the rider's performance. As an avid fan of ProChaps riding chaps, Larissa encourages her large Twitter and blog following to enter and be the lucky Valentine's winner.
The contest ends on February 14th, Valentine's Day. The winner may chose one pair of ProChaps riding chaps among their 3 styles: Competition (half chaps for competitors), Fit (half chaps mainly for trekking and leisure riders) and Athletic (classic full chaps).
Each chap style allows the rider to enjoy close contact with the horse. They each feature a bold and stylish design that is flattering to the figure, and will fit perfectly based on the 35 sizes to choose from, from XXS to XXL.
To enter the I <3 ProChaps contest, visit http://is.gd/prochaps
About ProChaps
ProChaps creates high performance athletic equestrian equipment that is well known for its technical qualities, comfort and exceptional adjustment. ProChaps unparalleled design is meant to meet the needs of any riders professional or amateur. Their unique concept can fit with elegance and ease any silhouette from XXS to XXL. It comes in 35 sizes, almost custom-made! For more information, visit http://www.prochaps.com.