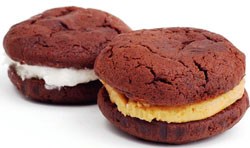 "Foodie Call helps to make sure customers can have access to their favorite foods and desserts, whether or not a company offers a traditional in-house delivery service." - Anu Mehra, CEO and Founder
Charlotte, N.C. (PRWEB) January 29, 2014
Foodie Call, Charlotte's premier food delivery service, announces the latest sweet additions to its dessert lineup, which includes cheesecake cupcakes from Cheesecake Carousel, as well as whoopie pies and meringues from Holm Made Cookies. Additionally, Foodie Call also delivers from a menu of in-house beverages that includes wine and beer, which makes for the perfect, sweet finish to any meal.
Cheesecake Carousel, one of the newest additions, offers 25 flavors of its decadent, creamy cheesecakes, which are made with all natural ingredients and fresh fruit toppings. Each palm-sized dessert is the best of both worlds, too – it's a cheesecake in the form of a cupcake. Toppings include glazes such as strawberry and blueberry, Oreo and Reese's; and traditional flavors such as the classic plain NY style, Italian Ricotta, and Tiramisu. More non-traditional -- yet equally enticing – flavors also include Sweet Potato Spice, Egg Nog, Chocolate Mint, Caramel Hazelnut, Banana Caramel, and Cookies and Cream.
"Let our delivery service help ease the stress of any dinner party, birthday party, or other big celebration," said Anu Mehra, Foodie Call's Founder and CEO. "Keep your mind on prepping for the big day, and take help where you can get it – we can deliver desserts like cheesecakes right to your front door. And, if you're worried about the small delivery surcharge that's added on, don't be – think about the money you'll spend on gas and the time you'll spend driving to your venue of choice, should you opt to pick up the treats yourself. This way, Foodie Call helps to make sure customers can have access to their favorite foods and desserts, whether or not a company offers a traditional in-house delivery service."
In addition to cheesecakes, Foodie Call has also recently partnered with Holm Made Cookies. The sweet treat shop boasts Kosher, vegan and gluten-free goodies, and also provides traditional comfort foods in the form of whoopie pies and meringues. Popular flavors include Raspberry whoopie pies with a cream cheese filling, traditional Chocolate with Vanilla Cream whoopie pies, Peanut Butter whoopie pies, Oatmeal Spice whoopie pies and – for a lighter note – airy, crispy, gluten-free meringues that almost melt in your mouth. The locally owned business also supports its fellow community members by supporting local food providers and distributors.
For more information about Cheesecake Carousel, Holm Made Cookies, or Foodie Call's extensive line of dessert offerings, visit http://www.makeafoodiecall.com.
About Foodie Call, Inc.
Foodie Call is a multi-restaurant marketing and delivery service that provides a delicious variety of Charlotte's best cuisine, beer, and wine to Charlotte metropolitan area residents, workers, and visitors. Foodie Call services Charlotte and the surrounding areas from Ballantyne to Lake Norman. The delivery company brings napkins, utensils, and drinks for a full complement to your meal. For special events, they can provide wine accompanied by gift boxes or items for themed events. For hours and menus, or to place an order, visit http://www.MakeAFoodieCall.com.
Contact:
Lindsay Yontz
Lindsay(at)MakeAFoodieCall(dot)com
308 E Worthington Ave.
Charlotte, NC 28203