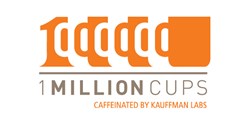 Kansas City, MO (PRWEB) January 29, 2014
In three cities likely in need of steaming hot coffee on cold January mornings, 1 Million Cups™ is now serving up entrepreneurial education and facilitating collaboration among entrepreneurs in Fargo, N.D., Fort Collins, Colo., and Provo, Utah. The cities are the first additions to the 1 Million Cups' map for 2014, and many more are expected throughout the year.
Fargo launched Jan. 22, and Fort Collins and Provo begin meeting today. The new cities raise the total to 26 U.S. locations hosting the weekly program begun on the premise that bringing entrepreneurs together to share cups of coffee and conversation can build strong startup communities. Launched in April 2012 by Kauffman Labs for Enterprise Creation at the Ewing Marion Kauffman Foundation, 1 Million Cups' national network now gives nearly 50 startups each week a platform to share their business concepts and gather ideas and advice from peers, mentors and other audience members. Estimated weekly attendance nationally is approaching 1,500.
The 1 Million Cups model is consistent in every location. Each Wednesday morning at 9 a.m., one or two early-stage, scalable startups present their companies to audience members. Each founder presents for six minutes and then fields audience questions, ideas and suggestions for 20 minutes. The program is run by local entrepreneurs who serve as community organizers.
The cities launching this month fit the 1 Million Cups model of mid-sized cities looking to coalesce their entrepreneurs and startup activities.
"We're thrilled to welcome the entrepreneurs and their advocates in these three communities to our growing 1 Million Cups national network," said Nate Olson, Kauffman Foundation associate and a co-founder of the program. "The education, advice and access to resources that 1 Million Cups can provide will help to accelerate their collective success."
In the newest cities, 1 Million Cups meets weekly at:

Fargo: Plains Art Museum, 704 First Avenue N.
Fort Collins: Arts Incubator of the Rockies, 200 Mathews St.
Provo: Camp 4 in the Startup Building, 560 South 100 West
The entrepreneurs volunteering as community organizers in the new 1 Million Cups cities are:
Fargo: Ashley Hahn of Intelligent InSites, Jake Joraanstad of Myriad Mobile, Lisa Gulland-Nelson of Greater Fargo Moorhead EDC, and Greg Tehven of Fargo Community Connector
Fort Collins: McCabe Callahan of Community Funded Enterprises, Beth Flowers of Arts Incubator of the Rockies, Mike O'Connell of Larimer County SBDC, Lee Porter of InnovatioNews, Chris Snook of Fort Collins Startup Week, and Ryan Speir of UNC BizHub
Provo: Christian Faulconer of Wrist Rocket; Dixon Holmes, deputy mayor of Provo City Economic Development; and Anders and Tom Taylor of Startup Group
1 Million Cups licenses its tool kit of community-building resources for free to communities that meet the program's criteria for participation. To learn more about 1 Million Cups, view current locations and apply to bring it to additional cities, visit http://www.1millioncups.com. Follow the conversation at @1millioncups on Twitter.
About the Ewing Marion Kauffman Foundation
The Ewing Marion Kauffman Foundation is a private, nonpartisan foundation that aims to foster economic independence by advancing educational achievement and entrepreneurial success. Founded by late entrepreneur and philanthropist Ewing Marion Kauffman, the Foundation is based in Kansas City, Mo., and has approximately $2 billion in assets. For more information, visit http://www.kauffman.org, and follow the Foundation on http://www.twitter.com/kauffmanfdn and http://www.facebook.com/kauffmanfdn.