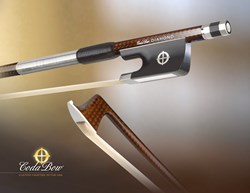 Pasadena, TX (PRWEB) January 29, 2014
Lisle Violin Shop announces the release of a brand new Custom Coda Diamond SX carbon fiber bow. Lisle Violin Shop worked closely with the renowned bow makers at Coda Bow International to help create this one-of-a-kind Custom Coda Diamond SX carbon fiber bow, which yields professional level response and tone quality.
"I am very excited to offer this exclusive custom-designed bow to our customers," said Lisle Violin Shop General Manager Matt Lisle. "This bow plays and feels like a master level bow at a fraction of the cost."
Crafted specifically for Lisle Violin Shop, the Custom Coda Diamond SX carbon fiber bow features a graphite diamond weave with a Kevlar acoustic core. This exclusive design offers the perfect balance of performance and value.
The new bow will be featured at the upcoming Texas Music Educators Association convention in San Antonio. Lisle Violin Shop will be one of 472 exhibitors at the convention, to be held Feb. 12-15, 2014. The Convention includes 300 workshops for orchestra, band, vocal, elementary and college educators, as well as exhibit halls with over 1,000 booths displaying all facets of the music industry.
The Custom Coda Diamond SX carbon fiber bow is the latest addition to Lisle Violin Shop's extensive catalog, which includes high quality string instruments and bows at affordable prices for purchase or rental. Lisle Violin Shop has three store locations: Houston, Katy, and Pasadena. Check them out online at http://www.violins.com or call 281-487-7303.
About the Company:
Lisle Violin Shop is a family-owned and operated music store specializing in string instrument rentals, sales, repairs and restorations. Its staff hand-selects the highest-quality instruments and bows and offers them at the most affordable prices to ensure customers have the very best selection, whether you are a beginning student or a professional player in search of a unique instrument. Lisle Violin Shop offers a wide variety of violin, viola, cello and bass rentals. Contact any of its locations for additional information concerning sales, rentals or repairs of violins, violas, cellos and basses.