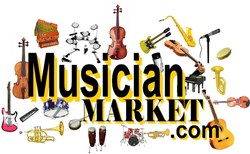 Lyrically, the song is about a group of school kids playing a dangerous game called 'Pass Around the Bomb'
Austin TX (PRWEB) January 29, 2014
Musician Market serves musicians throughout the USA as a place to find and purchase acoustic and electric musical instruments, recording gear, music accessories, drum sets and percussion instruments, and other music related equipment. Musicians can also find information on CD Duplication, books on recording and performing, and resources for music lessons.
The first featured artist is Wayne Gathright and Rick Petersen. The duo performs a variety of styles of music including pop, country, jazz, and folk. Songwriter Wayne Gathright was recently honored at the 2014 Austin Songwriters Symposium, with his song 'Pass Around the Bomb'. The song was recognized as a 'Publisher Pick' and was played for the conference. The song is beginning to gather air play at independent radio stations around the country.
The song 'Pass Around the Bomb' is sung by vocalist Rick Petersen, who has a vocal styling reminiscent of Paul McCartney of the Beatles. The vocals work well with the song crafting of Gathright, a respected recording engineer, producer, and studio musician in Austin Texas. He was influenced early on by the production quality of the Beatles and producer George Martin. Lyrically, the song is about a group of school kids playing a dangerous game called 'Pass Around the Bomb'. Each child in the song represents a different country, with of course, 'Sammy Boy' being Uncle Sam of the United States. Underlying the exterior of the song is a serious statement about the unfettered spread of nuclear weapons.
MusicanMarket.com welcomes other artists to submit bios and other material to be considered in the new 'Featured Artist' section of the website. They intend to expand the section to include interviews, reviews, and other promotions for musicians.
About MusicianMarket.com
MusicianMarket.com is a worldwide provider of musical instruments, including band instruments, guitars, amplifiers, recording gear, and accessories. The website also provides resources for musicians such as books for learning instruments and links to music instruction and cd duplication.