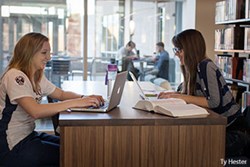 Lynchburg, VA (PRWEB) January 29, 2014
Liberty University President Jerry Falwell, Jr. recently announced several new aid programs and an additional investment in an existing program that will provide more financial aid to high-achieving students beginning in Fall 2014.
In addition to the $9 million increase in institutional aid implemented last year, Liberty is offering the new Virginia High Achievers Scholarship, Legacy Scholarship, the Liberty Scholars Grant Program, and is also increasing some of the amounts given for the Academic Achievement Scholarship, which is based on cumulative GPA, as well as SAT and ACT scores.
The Virginia High Achievers scholarship is for Virginia resident high school graduates with a cumulative GPA of 3.4 or higher. This award, along with the Virginia Tuition Assistance Grant and the Liberty Academic Achievement Award, makes the cost of enrolling at Liberty lower than almost every public four-year university in Virginia.
The Legacy Scholarship is an annual award of $1,000 that is available to students with a parent or guardian who graduated from Liberty. The parent only needs to complete a short application with the Resident Office of Admissions. The award can be combined with other Liberty aid.
The Liberty Scholars Grant Program is for resident undergraduate and graduate students. The grant is based on the student's respective cumulative GPA and expected family contribution (EFC) from the FAFSA. Awards range from $300-$1,000 per semester for resident graduate students and $1,000-$2,000 per semester for resident undergraduate students.
The Academic Achievement Scholarship will help more than 7,000 qualifying students receive over $15 million in aid at Liberty this year alone. Some of the amounts are increasing by as much as $500.
As part of its commitment to furthering the Great Commission, Liberty recently launched a new missionary scholarship, which grants full tuition to children of missionaries whose organizations work closely with Liberty. Additionally, a loan forgiveness program has been instituted for qualified Liberty graduates serving in the mission field. The loan forgiveness program will pay up to 20 percent per year of the balance of federal student loans (up to $30,000 per individual) to qualifying alumni.
For more information on tuition, scholarships, and grants, visit Liberty's Financial Aid homepage.
About Liberty University
Liberty University, founded in 1971, is the largest private, nonprofit university in the nation, the largest university in Virginia, and the largest Christian university in the world. More than 100,000 students attend classes on its 7,000-acre residential campus and study in its thriving online education program.