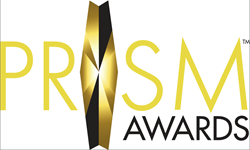 ...entertainment creators produced more than 300 hours of national television, film, comic book and other media addressing all aspects of mental health and substance use, from prevention to treatment and recovery.-Brian Dyak
Burbank, CA (PRWEB) January 29, 2014
The PRISM Awards, honoring the portrayal of mental health and substance abuse, including drug, alcohol, tobacco use and addiction, in TV shows, movies, music, DVD, and comic book entertainment, are presented annually by the Entertainment Industries Council, Inc. (EIC). The Nomination Review Committee (NRC), which consists of over 80 representatives of the entertainment industry and health fields, will meet at the end of this month to determine the nominees, according to President and CEO Brian Dyak.
"Based on the submissions received, entertainment creators produced more than 300 hours of national television, film, comic book and other media addressing all aspects of mental health and substance use, from prevention to treatment and recovery," said Dyak.
The 18th annual PRISM Awards aims to strengthen the positive relationship between the entertainment industry and public interest sector.
"The portrayals reached a new level this year. Productions further expanded into multiple-episode storylines rather than these issues existing within only a single episode of a show, providing more in-depth exploration. These advancements are testimony to the increasing awareness of prevalent social and health issues and will make for a vibrant 18th Annual PRISM Awards program," commented Larry Deutchman, Executive Vice President, Marketing and Industry Relations, EIC.
In this exciting time, EIC continues to encourage the entertainment industry to raise awareness through detail and honesty. "[EIC] is always there as a resource to the entertainment community and the reason that portrayals in film and television are becoming more accurate and more useful to the general public is because of organizations like EIC," said Dr. Drew Pinsky, TV host and longtime PRISM Awards supporter.
Learn more about PRISM Awards and get updates ahead of nominee announcements at http://www.prismawards.com.
About Entertainment Industries Council
EIC is a non-profit organization founded in 1983 by leaders within the entertainment industry to bring the power and influence of the industry to communicate about health and social issues. The organization is considered to be the chief pioneer of entertainment and journalism outreach and a premiere success story in the field of entertainment education. This mission relies on providing resource information to the creative community and culminates in recognition of the industry through the national television special PRISM Showcase which addresses accurate portrayals of substance use issues and mental health concerns. The organization also produces the SET Awards, honoring positive and non-stereotypical portrayals of science, engineering and technology.
For a complete list of health and social issues addressed by EIC and local projects please visit First Draft and EIC's website. EIC's web site is http://www.eiconline.org. The PRISM Awards web site is http://www.prismawards.com. The SET Awards web site is http://www.eicsetawards.com.