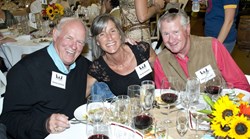 "When I heard that a camper said his time at Roundup River Ranch was 'the best week of his life,' that it was the place he longed to be when he sat through hours of treatment and hospital stays, I knew that I needed to help." - T. Denny Sanford
Avon, Colorado (PRWEB) January 30, 2014
Roundup River Ranch, an organization that provides camp experiences to children with chronic and life-threatening illnesses completely free of charge, announced that it recently received a $1 million gift from South Dakota philanthropist T. Denny Sanford. The gift, which will be received in $100,000 payments over the next 10 years, will be used to support continued growth and expansion of camp programs throughout the region.
This gift demonstrates Sanford's continued commitment to Roundup River Ranch. Sanford served as the organization's lead donor in its initial $20 million capital campaign to construct camp facilities. His transformational $7 million gift, given as a matching gift challenged, ensured the campaign came to a successful close. Sanford now plans to help Roundup River Ranch grow and expand its services.
"Denny's belief in the impact of camp in the lives of children with chronic and life-threatening illnesses is remarkable. In the capital campaign, he helped us build our foundation; with his most recent gift, he is providing for our future, guaranteeing that we have the tools and resources needed to build a strong, sustainable organization," said Ruth B. Johnson, president and CEO of Roundup River Ranch. Johnson remarked that Sanford's gift will be used leverage development and marketing efforts to encourage philanthropic support. With increased philanthropy, more children with chronic and life-threatening illnesses will have the opportunity to participate in camp programs.
Sanford, a South Dakota business man and philanthropist, said his gift to Roundup River Ranch was inspired by the children with chronic and life-threatening illnesses who attend camp. On recent visits to Roundup River Ranch, Sanford observed the impact camp can have on the children served and wanted to help the organization expand its reach while providing opportunities for continued strategic growth and development.
"With this gift, I intend to help secure the organization's future, providing funds to support Roundup River Ranch's efforts to increase the number of campers and families served." Sanford commented. "It's unbelievable to see the difference camp can make to these kids and families - camp is an oasis for them, and when they leave, they're stronger and happier. When I heard that a camper said his time at Roundup River Ranch was 'the best week of his life,' that it was the place he longed to be when he sat through hours of treatment and hospital stays, I knew that I needed to help."
To date, Sanford's lifetime giving has exceeded $1 billion.
###
About Roundup River Ranch
Roundup River Ranch is a member of SeriousFun Children's Network, a growing global community of innovative camps and programs that provide life-changing support to children with serious illnesses and their families founded by Paul Newman. Roundup River Ranch enriches the lives of children with chronic and life-threatening illnesses by providing camp experiences, with appropriate medical care, that are fun, safe, and empowering, always free of charge to the child and their family. Annually, hundreds of children coping with cancer, blood disorders, organ transplants, and other serious conditions benefit from Roundup River Ranch's intentional and empowering camp programs. Roundup River Ranch is located 2 and a half hours from Denver near Gypsum, Colorado along the Colorado River. For more information about Roundup River Ranch, visit http://www.RoundupRiverRanch.org or call 970.748.9983.