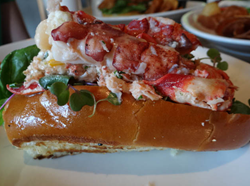 (PRWEB) January 29, 2014
Super Bowl Sunday is quickly approaching and GetMaineLobster.com is urging football and seafood fans alike to take advantage of its wide range of Super Bowl specials for delivery before the big game.
The Maine seafood delivery service is offering multiple Maine lobster tail packages at significant discounts. For smaller gatherings, 12 three- to four-ounce lobster tails will be delivered for $129.00, a discount of $34.00. For larger game watches or tailgates, 24 three- to four-ounce lobster tails are available for $169.00, and the 36-tail package is on special for $239.00, a discount of nearly 50 percent off the retail price! Lobster tails are easy to prepare and serve, and they are the perfect crowd pleaser, whether grilled, baked or broiled!
In addition to its lobster tails, GetMaineLobster.com is offering a discount on its fresh-picked Maine lobster meat. This is a great way to elevate an appetizer such as a creamy dip or create a delicious lobster roll! The team at Get Maine Lobster has found some real winners for your Super Bowl party, but time is running out so act fast, there is limited time to get in on the action!
To learn more about GetMaineLobster.com, browse its wide range of seafood offerings, and to access lobster recipes or view weekly seafood delivery specials, visit GetMaineLobster.com or call (866) 562-4817. For even more lobster news and recipes go to JustAddLobster.com.
About GetMaineLobster.com
GetMaineLobster.com, a division of Black Point Seafood and Black Point Gourmet, hand-selects the finest Maine lobster, seafood and beef products for convenient distribution throughout the United States. Their passion is to make fresh, quality seafood readily available to customers across the country, which is why they buy from only the most trusted, well-established suppliers to ensure that they receive the finest products available.
GetMaineLobster.com was selected out of the more than four million small American businesses served by Chase bank to represent its new Platinum Business Checking product for its 2013 national advertising campaign.