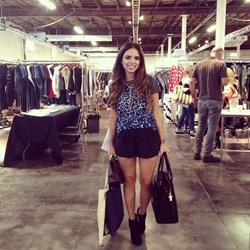 "If you go into a trade show and don't have the pricing right, and production isn't ready, you have just lost a foot in the door." - Karen Bennett, Founder, Coast Shows
New York, NY (PRWEB) January 28, 2014
Designers and buyers are preparing to meet and mingle at Coast Shows next fashion trade show exhibition being held February 23 and ­24, 2014 in New York City. The global trade show brings international markets and designers from around the world to meet with top buyers.
The event will feature lifestyle, luxury, and ready-to-wear accessories in an intimate setting at Stage 37, 508 W. 37th Street. This year's exhibition will bring bloggers and designers together for extended promotional opportunities for the fashion brands.
In a recent interview with FashionMingle.net, Coast Shows founder, Karen Bennett, shared her insights into how a designer can make the most of their trade show experience. From pricing to budget and merchandising to sales, a designer must pay close attention to detail in order to attract a buyer to their booth. "The product should be merchandised properly within the space," says Bennett. "Keep your booth clutter-free, keep media devices out of sight when engaging in client relations, and make eye contact when talking with potential buyers."
Coast Shows is unique in how they price their exhibition space, offering a package deal with one price that includes the booth's furnishings and lighting so the designer doesn't have to deal with any additional costs. The New York show is also known for its intimate setting, allowing more time and space for designers and buyers to have a conversation.
To see the full video interview and read more of Ms. Bennett's tips for working with buyers at a tradeshow, visit http://www.fashionmingle.net. To apply as an exhibitor or register to attend as a buyer, visit http://www.coastshows.com.
About FashionMingle.net
FashionMingle.net is a PR platform for fashion entrepreneurs to share, discover, and mingle. The business directory and social network create a platform for fashion entrepreneurs to promote their services and grow their business. More information can be found at FashionMingle.net.