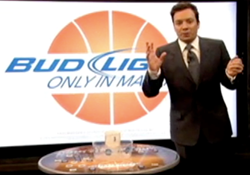 Jimmy Fallon Unstoppable
(PRWEB) January 29, 2014
Animal Marketing and the MagneticSkins Bucket Tables make the transition into the retail market and are now making a three pointer at Sports Authority just in time for the NCAA March Madness.
 
With the Super Bowl coming and going this weekend, all eyes will fall towards March Madness and the NCAA MagneticSkins Bucket Tables. 
 
The 2014 NCAA Men's Basketball Tournament will involve 68 teams playing in a single-elimination tournament.  The winner will be crowned men's NCAA basketball national champion. It is scheduled to begin on March 18, 2014 and will run through the championship game on April 7th in Arlington, Texas.
According to NESN.com, last year's NCAA games averaged 10.7 million viewers and the national title game averaged 23.4 million viewers.  This is a 12% increase of viewers from the previous year.
MagneticSkins has a huge selection of NCAA teams to choose from, including the current top three: Arizona, Syracuse, and Florida.
 
Sports Authority realizes the demand for NCAA licensed products and until now there has been no NCAA licensed product demanding this much attention. Sports Authority has a lengthy history, dating back almost a century, of being a leader in their industry and in providing a large assortment of superior, brand-name sporting goods. Currently, they operate over 450 stores in 45 U.S. states. 
 
Animal Marketing feels confident that the partnership with Sports Authority will be beneficial for product sales and exposure, especially throughout the NCAA tournament.
 
Over the past 5 years, MagneticSkins has worked with Bud Light to execute the National Bucket Challenge Tournament. This tournament is held throughout the United States with the finals being held in New York at Madison Square Park. MagneticSkins was featured on Late Night with Jimmy Fallon calling all out to participate for $25,000 and a trip for two to Cancun.