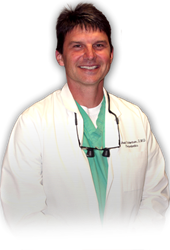 Pittsburgh, PA (PRWEB) January 28, 2014
Patients of Tupelo periodontist Dr. Michael Robertson now have a new option for gum disease treatment with the Laser Assisted New Attachment Procedure (LANAP). This laser gum surgery promises minimal discomfort and reduced healing time compared to conventional surgery. LANAP has a high success rate and can effectively stop bleeding gums and other common symptoms of periodontal disease.
When Dr. Robertson performs the procedure, he uses the PerioLase MVP-7, a laser that is absorbed only by periodontal disease. He starts the procedure by measuring the patient's gum pockets, and then he uses the laser to remove periodontal disease without causing harm to healthy tooth, bone, or gum tissue. At the end of the procedure, he uses the PerioLase MVP-7 to stimulate the formation of a blood clot around the gum pocket, which lowers the risk of complications like infection. Typically, Dr. Robertson can complete the procedure in just two hours.
There are a few factors that make LANAP an appealing type of gum disease treatment for Tupelo patients. The procedure generally causes little pain and bleeding, and there is no cutting, stitching, or use of bandages. Patients usually experience a fast recovery; most people can return to normal activities within 24 hours of the procedure. Patients who sought treatment because they wanted to stop bleeding gums usually find that they do not have to endure this symptom while recovering from LANAP. The procedure even improves the likelihood of patients keeping their damaged teeth, since the laser promotes reattachment by stimulating growth in the bone that anchors the teeth.
Gum disease can cause various oral health problems if it progresses far enough, including loss of teeth and gum recession. Research has even shown that gum disease is linked to a higher risk of serious conditions like heart disease. Although many patients may seek gum disease treatment simply because they want to stop bleeding gums or other symptoms, people who undergo LANAP also have much to gain in terms of long term health. Tupelo patients who need more gum disease treatment information from Dr. Robertson are encouraged to visit his website or call his office to schedule an appointment.
About the Doctor
Dr. J. Michael Robertson is a periodontist offering personalized dental care for patients in Tupelo, MS. Dr. Robertson received his B.A. from the University of Mississippi as a chancellor and Dean's List scholar, and his D.M.D. from the University of Mississippi School of Dentistry. He earned his certificate in periodontics from the University of Alabama. Dr. Robertson is part of one percent of dental professionals providing the LANAP FDA cleared laser procedure for gum disease and periodontal treatment. To learn more about Dr. Robertson and his dental services visit his website at http://www.northmsperio.com and call (662) 269-1317.