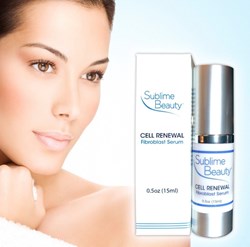 A 6 page report all about the revolutionary ingredients and what they do is available now, with a limited-time offer of 50% off.
St. Petersburg, FL (PRWEB) January 29, 2014
Sublime Beauty® introduces its high-end product, "Cell Renewal | Fibroblast Serum" this week, and includes a 50% off launch discount and informative 6 page report.
"Many of our clients are looking for the best topical technologies and serums for better skin," says Kathy Heshelow, founder of Sublime Beauty®. "These ingredients are taking the industry by storm, working at the cellular level. We offer a 6 page report all about the ingredients."
As part of the launch, Sublime Beauty® offers a limited time 50% off discount with coupon code FIBROB50.
Loss of collagen is a key factor in wrinkles, sagging and thinning of skin. The body has lost a minimum of 15 percent of collagen production and by age 60, it has lost 45 percent.
The key ingredient in the new serum, Human Fibroblast Conditioned Media, tells the fibroblasts in the skin to make collagen.
Scientists have done good work in wound and burn healing with this ingredient, and it has been widened to now include anti-aging skincare.
Sublime Beauty® focuses on skincare issues for those 40 and above, with popular products such as the Face Whisperer® line, the new Ageless line and foundational serums like Collagen Peptide and Retinol Serum with Vitamin C.
All Sublime Beauty® products including the new Fibroblast Serum are available on Amazon, as well as a new Amazon webstore launching this week (Amazon Prime benefits available.)