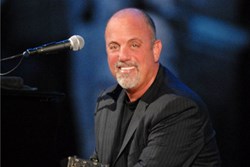 Denver, Colorado (PRWEB) January 29, 2014
At 64, Billy Joel says he is 'un-retiring', and based on ticket sales, five decades' worth of fans are coming out of the woodwork. Since releasing his first hit "Piano Man" in 1973, Joel has become the third-best-selling solo artist in American history.
Joel had Top 40 songs in the 1970s, 1980s, and 1990s, achieving a grand total of 33 Top 40 hits in the United States to date, all of which he wrote himself. He has also been nominated for 23 Grammy Awards during his career, and won six. And, he has sold over 150 million records worldwide.
Last December, it was announced that Joel would become a franchise of Madison Square Garden, playing one concert a month indefinitely. His first show was last Monday night, while his next concert is set for this Monday, February 3, 2014.
The singer also announced a tour of 14 additional cities this Spring and Summer, including Raleigh, Auburn Hills, Pittsburgh, Toronto, Nashville, Cleveland, Louisville, Los Angeles, Phoenix, Las Vegas, Chicago, Washington D.C. and Philadelphia.
"Billy Joel tickets have been at the top of concert queues for over a week," said Marta Ault at online ticket marketplace BuyAnySeat.com. "Only Elvis Presley and Garth Brooks as solo artists have sold more tracks than Billy Joel."
"That's why we're proud to be able to offer fans the most comprehensive and continuously updated selection of concert tickets online, with a worry-free guarantee to protect their purchase," added Ault.
"To access the complete inventory of Billy Joel tickets we now have available, customers can go to BuyAnySeat.com and search for Billy Joel – then select their tickets."
Known as an American pianist, singer-songwriter and composer, William Martin "Billy" Joel was born in New York City on May 9, 1949. After watching the Beatles perform on The Ed Sullivan Show, Joel decided to pursue a career in music. He founded the Echoes in the early sixties, a group that specialized in British Invasion covers, but it wasn't until 1973 that he finally became a commercial success.
After his hit album Piano Man in 1973, Columbia Records introduced Joel to Phil Ramone, who would produce all of Joel's studio albums from The Stranger in 1977 to The Bridge in 1986. The Stranger was an enormous commercial success, yielding four Top-25 hits on the Billboard charts: "Just the Way You Are" (#3), "Movin' Out (Anthony's Song)" (#17), "Only the Good Die Young" (#24), and "She's Always a Woman" (#17).
Joel's first Top Ten album, The Stranger was certified multi-platinum and reached number two on the charts, outselling Simon & Garfunkel's Bridge Over Troubled Water, Columbia's previous best-selling album. The Stranger also featured "Scenes from an Italian Restaurant", an album-oriented rock classic, which has become one of his best-known songs.
Joel was inducted into the Songwriters Hall of Fame in 1992, the Rock and Roll Hall of Fame in 1999, and the Long Island Music Hall of Fame in 2006. In 2001, Joel received the Johnny Mercer Award from the Songwriters Hall of Fame. In 2013, he received the Kennedy Center Honors, the nation's highest honor, for influencing American culture through the arts.
The singer/songwriter was also named MusiCares Person of the Year for 2002, an award given each year at the same time as the Grammy Awards. Joel has won five non-honorary Grammy Awards, including Album of the Year, for Stranger and 52nd Street, and Song of the Year for "Just the Way You Are". (Source: wikipedia.org)
"As long as there's a ticket demand and as long as I'm physically capable of doing it," said Joel, " I'm gonna keep doing it. I'm gonna be 65 years old. Most people retire at 65, I'm kind of `un-retiring'."
Joel's compilation album Greatest Hits Vol. 1 & 2 released in 1985 is the third-best-selling solo album in the United States with 11,500,000 disks shipped. In addition to vocals, piano and keyboards, Joel also plays the guitar, harmonica and accordion.
To shop for Billy Joel tickets, visit BuyAnySeat.com.
About BuyAnySeat.com: An online ticket marketplace, BuyAnySeat.com connects sports, theater and other live entertainment fans to an extensive worldwide network of ticket sellers. The site's simplified listings and navigational tools enable fans to easily locate, compare and purchase inexpensive, discounted or lower-priced tickets to virtually all advertised sports and entertainment events around the globe.
The marketplace, which is PCI-compliant and Norton Secured, also provides customers with a complete Worry-Free Guarantee on all ticket purchases. Based in Denver, Colorado, BuyAnySeat.com is a subsidiary of Denver Media Holdings. For more information, please visit http://buyanyseat.com.