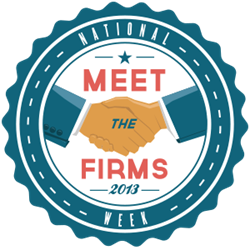 Accounting employers want to identify top students in a cost-effective way," said Jeff Phillips, CEO of CollegeFrog. "National Meet the Firms Week gives employers a way to find high-potential students from around the country who might be a good fit.
Pensacola, FL (PRWEB) January 30, 2014
Elizabeth Rabe has a problem: accounting majors are more in demand than ever, yet 300 accounting students at Northeastern State University are still struggling to connect with recruiters for open positions. Rabe teaches accounting at the university in Tahlequah, Oklahoma, which is 75 miles east of Tulsa and off the beaten path for recruiters. "We have an outstanding accounting program – as good as any in the state – but it's tough to convince recruiters and CPAs to make the trip to Tahlequah," said Rabe, an Instructor of Accounting.
Joy Batteen, Director of Talent Development with Kaufman, Rossin & Co., has a challenge too: as recruiting manager at a growing South Florida firm, she must hire dozens of outstanding new accountants every year. She goes to four campuses in the area, but she can't reach out to the top talent who might move to South Florida. "National Meet the Firms Week helps me cast a broader net," said Batteen.
Accounting grads are in especially high demand. According to "Trends in the Supply of Accounting Graduates and the Demand for Public Accounting Recruits," a report by the American Institute of Certified Public Accountants in July 2013, accounting graduates are enjoying an unprecedented level of demand from public accounting firms, with a record 40,350 accounting graduates hired in 2012 and 89 percent of those firms forecasting the same or increased hiring of graduates this year.
Students are not aware of all the opportunities available to them because only the largest employers visit their campuses. Thousands of employers, including public accounting firms, government entities and corporations, are looking for new ways to connect with students.
"Accounting employers want to identify top accounting students in a cost-effective way earlier in the students' careers," said Jeff Phillips, CEO of CollegeFrog. "National Meet the Firms Week gives employers a way to find high-potential students from around the country who might be a good fit."
Employers will receive a digital resume book of all the students in the state. Students benefit by having a resume distributed to all participating employers in the state and the opportunity to discover other jobs and internships on CollegeFrog.
This year, employers have the chance to host their own 30-minute "Recruiting Info Sessions" where they will be able to promote the benefits of employment at the company to top students.
Colleges traditionally host Meet the Firms events—career fairs where students can interact with representatives from hiring firms. However, firms that are eager to find the best available talent may not always be able to afford to travel to multiple campuses. National Meet the Firms Week enables firms to have a presence on campuses nationwide.
Students and firms may go to MeetTheFirmsWeek.com to register. CollegeFrog is joined by sponsors Wiley CPAexcel, Deloitte, the Association of Chartered Certified Accountants and other accounting industry leaders in presenting the event. Students and firms receive special offers for registering and are entered into sweepstakes for other prizes. For a full list of partners and benefits, students and firms can go to MeetTheFirmsWeek.com.
About CollegeFrog
CollegeFrog was established in 2011 and provides recruitment automation for the accounting industry. CollegeFrog matches student candidates to internships and entry-level opportunities and then helps firms manage their recruitment process with a simple and intuitive candidate management tool. In February 2013, CollegeFrog was named a Top New Product by Accounting Today. Recently, CollegeFrog launched Accountingfly.com, a new way for employers to hire experienced accounting talent.
Follow CollegeFrog at LinkedIn.com/company/CollegeFrog, Facebook.com/CollegeFrog and Twitter.com/CollegeFrog.