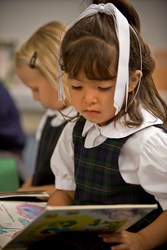 The best way to appreciate why Waterford is Utah's top private school is to see it for yourself
Sandy, Utah (PRWEB) January 31, 2014
The Waterford School, 1480 East 9400 South in Sandy, Utah, will host a Lower School Admissions Open House, Tuesday, February 11, at 6 p.m. For more information and a campus map please visit http://www.waterfordschool.org/openhouse.
This event will showcase Waterford's Lower School campus, highlighting preschool through grade 5. Time will be available to tour homerooms, art studios, science laboratories, and the music, dance and computer classrooms. Interested parents and students are invited to come meet members of the faculty and administration, as well as current parents.
"Providing your child with an extraordinary education -- beginning in preschool and elementary school -- is the best possible way to ensure his or her future educational success. The Waterford experience ignites a child's mind and awakens a passion for learning that lasts a lifetime," said Todd Winters, Waterford Director of Admissions. "The best way to appreciate why Waterford is Utah's top private school is to see it for yourself. We invite all parents of children age 3 to age 12 to visit our February 11 Lower School Open House."
The Waterford School, located in Sandy, Utah, is a private, college-preparatory school for students in Preschool through Grade 12. The school offers an extensive liberal arts curriculum, including music, dance, theater, photography and visual arts. For more information about the Waterford School visit http://www.waterfordschool.org.