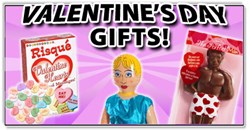 Looking for Funny Valentine's Day Gifts? Stupid.com is the place to shop for romantic laughs.
(PRWEB) January 31, 2014
As Valentine's Day fast approaches, many individuals will want to inject a little humor into the occasion.
Stupid.com, home of the stupidest gifts on planet earth, offers a number of excellent gifts for men and women who want to go the light-hearted route.
Stupid.com's funny Valentine's Day gift range from everything from diamond ring mugs and bacon shaving cream, to a delightful countdown-to-divorce clock. Tuxedo aprons, cupcake bandages and other funny Valentine's Day gifts will surely elicit some hearty guffaws. With dozens of cheap stuff to choose from, buyers will be able to rely on Stupid.com for a novel Valentine's Day experience.
Here are a few choice novelty items that will make anyone laugh.
The Liquid-Activated Heart Mug - This particular mug features an old-school video game heart on the outside. As hot liquid is poured into the cup, the heart turns red. As the individual progresses through the drink, the heart begins to crumble. If people are looking for silly gifts, this is a superb option.
Anti-Valentine's Day Piñata - Nothing quite soothes a broken heart like an anti-romance piñata. Guests can take swings at the item until it releases sweet treats and candies. The pain of unrequited love can thus be kept at bay for at least one more day.
Risqué Valentine's Day Hearts - Individuals who are desperately searching for weird gifts or prank gifts need look no further than some risqué Valentine's Day hearts. These adult-themed hearts are perfect for couples who enjoy dirty talk and are not afraid to show it.
50 Shades of Brown Lavatory Mist - When it comes to laugh-out-loud silly gifts, the lavatory mist is the sure way to go. It's designed to cover the less-than-stellar odors that are often associated with an abrupt trip to the bathroom. With an infusion of amber and mandarin, those unpleasant aromas can be gently and completely neutralized.
Luscious Lips Straws - Luscious Lips Straws are designed to give any drink a little extra appeal. As gag gifts, these specialized straws can jazz up milkshakes, sodas, green teas, and alcoholic beverages.
Stupid.com has been spreading laughs – one gift at a time – since its burst onto the online retail scene in 1998. From gag gifts and stocking stuffers to redneck gifts and novelty items, the online retailer offers over 4,000 wonderful products and 150 gift categories that will surely brighten up any event.