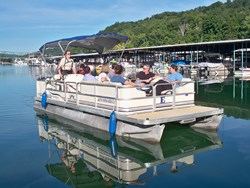 With so much to do, Come Here, Come Home.
Maynardville, TN (PRWEB) January 30, 2014
The Union County Chamber of Commerce has released the 2014 calendar of events for Union County and Norris Lake. On March 22, volunteer with the 5 County Clean-up of Norris Lake waters and shorelines. On April 5, run at the 1st annual Ridge Runners 5K at Big Ridge State Park. In May, the Union County Farmers market will open with fresh local produce and bedding plants. June 7, the streets of Maynardville will be blocked off for the sights and sounds of the 4th Annual Art on Main St. festival.
As summer heats up, visit Oakes Daylily festival open for visitors June 26-29. Saddle up for rodeo fun at the Rodeo at Red Gate Farm on July 18 and 19. Bluegrass is on tap at Bluegrass at Big Ridge State Park on August 15 and back on tap at the Luttrell Bluegrass Festival on September 20.
The Haunted Corn Maze and Pumpkin Patch will open mid-September and run through the end of October. The music festival series ends with the annual Heritage Festival slated for October 4.
Cabins, camping, and houseboats are available around the lake to serve as a launch site for a day of family fun.
With so much to do, Come Here, Come Home to Union County!