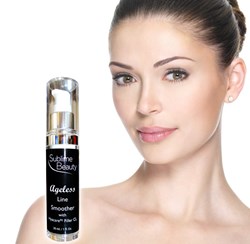 The dermal filler uses patented ingredients developed for those who don't want to use invasive needles.
St. Petersburg, FL (PRWEB) February 10, 2014
The new dermal filler from Sublime Beauty® is gathering fans. The serum smoothes skin and improves quality in a non-invasive way, and changes are visible starting in a few weeks.
"Ageless Line Smoother with Hyacare® Filler CL has key ingredients developed in France," says Kathy Heshelow, founder of Sublime Beauty®.
"We offer an on-demand report about Hyacare® Filler CL, Matrixyl and other fabulous and performing ingredient in the Ageless product line. This includes before and after photos."
The dermal filler was developed as an answer to those who do not want to use invasive needles or procedures. Hyacare Filler® CL is based on the essential ingredient hyaluronic acid found in our skins, responsible for plumping and cushioning.
It is also ideal to use after a surgical procedure to enhance the work.
The Line Smoother serum also includes Argireline®, known as the natural botox, to relax wrinkles and the peptide Matrixyl®, which has the ability to double collagen production. It is a winning combination of ingredients.
Sublime Beauty® products are found on Amazon, and on the new Amazon webstore(with Amazon Prime benefits.)