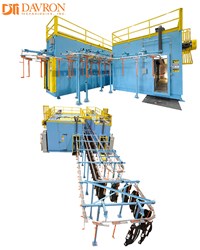 Chattanooga, TN (PRWEB) January 30, 2014
Davron Technologies, Inc. designed and manufactured an overhead continuous conveyor oven. The oven is used to heat a polypropylene product used in the automotive industry. The oven heats the surface of the raw product before a cover is added. The continuous overhead conveyor system serpentines within the heated chamber and provides three passes. With a twenty minute heating cycle, this system can process 90 parts per hour in a smaller footprint than a traditional single pass oven.
The oven features two independent zones of control. This allows for adjustment of the heating profile within the oven chamber, as needed. The operating temperature range for each zone is between 122ᴼ and 302ᴼF. Each zone is 50% of the oven length and utilizes one electric heater, one circulation fan, and one exhaust fan. The heaters are controlled by SCR's, this control system automatically adjust voltage to maintain the desired temperature in each zone. The circulation fans and exhaust fans utilize Variable Frequency Drives (VFD's), allowing for airflow adjustment and maximum operational efficiency of the system. The overhead continuous conveyor system includes custom designed hooks. These hooks provide efficient and easy loading/unloading of product. The continuous conveyor system utilizes a Variable Frequency Drive to allow for conveyor speed adjustment. This overhead continuous conveyor oven features a PLC with Operator Touch Screen (HMI) to control all features of the system.
The heated chamber has usable interior dimensions of 13'3" wide x 6'0" high x 26'10" long. The inner chamber is made out of 16-gauge aluminized steel backed by four inches of eight-pound density mineral wool insulation. The exterior is constructed from 16-gauge carbon steel and is backed by a structural steel frame and finished with high-temperature paint. The safety system features forty-two inch handrail and toe board along the top of the oven, caged ladder, fire protection piping and sprinkler heads, and safety mats for operator protection.
Davron provided turnkey design and manufacturing services for this overhead continuous conveyor oven to meet the temperature and process requirements provided by the customer. Once acceptance and training were completed at Davron, the oven was loaded on a truck and shipped to the customer's facility. Davron provided a complete crew (mechanical and electrical) and provided a turnkey installation at the customer's facility.
Visit http://www.davrontech.com for more information about Davron's continuous conveyor oven capabilities. Or, if you'd like to discuss your own industrial oven project, please call Davron's Vice President, Jimmy Evans, at (888) 263-2673, or fill out Davron's online spec submission form.
About Davron Technologies, Inc.
Davron Technologies, Inc. custom fabricates industrial ovens, providing turnkey design and system integration services to develop thermal processing solutions. Davron is a total industrial oven manufacturer, creating custom industrial ovens and precision process equipment for every industry that requires thermal processing. Each Davron industrial oven is custom built according to customers' unique specifications. As the Provider of Industrial Oven Solutions, Davron offers one of the largest selections of in-house and on-site industrial oven services in the world.