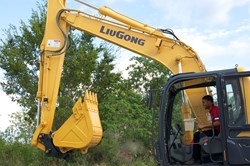 Katy, Texas (PRWEB) February 03, 2014
"LiuGong Construction Machinery in North America has been given a strong advantage by partnering with Miller, via LiuGong headquarters in China, to be able to offer the PowerLatch coupler to our North American dealer base. The PowerLatch quick coupler has been extremely successful worldwide and is a leader in safety and compliance," explains North American Sales Manager, Marcus Menough.
LiuGong chose to attach its name to the Miller brand as it exemplifies safety, quality, reliability and longevity. The easy service capability of the PowerLatch mirrors LiuGong machines in simplicity of design. "This partnership with Miller further exemplifies LiuGong's commitment to our dealers and marketplace of providing a world class, 'full line' of equipment solutions," added Marc Dowdell, President of LiuGong North America.
"Cash flow is a critical component to contractors and dealers. Both couplers and buckets can be purchased, financed, and warrantied as part of one equipment transaction. Equally as important, Contractors and Dealers can still utilize their existing attachments from their fleet, thusly maximizing their overall fleet investment and conserving cash flow," continued Marc Dowdell.
LiuGong North America is planning to expand its coupler and attachments offering in the near future. "As our business continues to grow and we sell more excavators in this market a big challenge for our customers is to have the flexibility to pick up competitor's attachments. The PowerLatch gives our machines that capability in a solution directly supplied from LiuGong North America," says Marcus Menough.
The quick couplers are available for immediate dealer purchase and can be viewed at the ConExpo-Con/Agg show March 4 – 8, 2014 in Las Vegas.
###
About LiuGong
LiuGong North America, headquartered in Katy, TX, is a subsidiary of Guangxi LiuGong Machinery Co. LTD headquartered in Liuzhou, China. For more than 55 years, LiuGong has been a leader in China's heavy construction equipment and material handling industries. Accredited with being the leading manufacturer of wheel loaders globally, LiuGong has become one of the fastest growing full-line construction equipment companies in the world.
LiuGong products provide value for price and are easy to maintain, especially in rigorous and isolated environments.