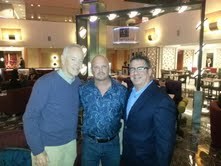 NYC, NY (PRWEB) February 05, 2014
The Living Heart Foundation (LHF), dedicated to health education, screening, database creation, outcomes reporting and wellness program development founded by Dr. Archie Roberts, ended their HOPE (Heart Obesity Pulmonology Education) Program Super Bowl Symposium last week. The HOPE Program consists of a series of health screenings for data collection and wellness for retired NFL players. Partners of the screenings Long Island Dental Sleep Medicine and Pro Player Health Alliance, who have used their experience and knowledge of the field, oversaw the sleep apnea portion of the series of screenings.
The final screening was on Friday, January 31, 2014, at Malo Clinic in New Jersey. Dr. Rein and Dr. Seltzer of Long Island Dental Sleep Medicine, as well as Pro Player Health Alliance, were in attendance for that screening as well. Working with retired NFL greats is something far from new for the dentists as they have already proven the effectiveness of treating multiple Super Bowl Champions with an oral appliance known as the Sleep Herbst, manufactured by Gergen's Orthodontic Lab. The Sleep Herbst is an alternative treatment to CPAP that holds the lower jaw forward at night, allowing for normal breathing of the patient with minimal airway obstructions.
Sleep apnea has been proven by multiple studies to have a large negative effect on the heart and respiratory system making it a necessary part of these LHF HOPE Program screenings that also can include blood pressure, lung age, body composition, ECG and cardiovascular risk detecting blood tests. In addition to the screenings, players can sign up for the HOPE Study's six month weight management program. Visit livingheartfoundaion.org for more details.
About David Gergen
David Gergen, CDT and President of Pro Player Health Alliance, has been a nationally respected dental lab technician for over 25 years. He received the award for "The Finest Orthodontic Technician in the Country" given by Columbus Dental in 1986. He also has been appointed chair of the dental wing of the American Sleep and Breathing Academy a national interdisciplinary academy dedicated to sleep training and education with over 60,000 members. He has worked for some of the pioneers in the orthodontic and sleep dentistry fields. One of his proudest achievements is receiving The National Leadership award for Arizona Small Businessman of the Year in 2004.
About Pro Player Health Alliance
The Pro Player Health Alliance (PPHA) is an organization dedicated to helping former NFL players, through providing testing and treatment options for those who suffer from sleep apnea. In addition, the PPHA is dedicated to integrating education and raising sleep apnea awareness, in a fun and memorable way. In addition to the campaign, the PPHA is dedicated to testing and getting people who suffer from sleep apnea treated. The PPHA was created by David Gergen, President of Gergen's Orthodontic Lab and Former NFL legends.