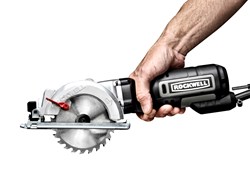 Charlotte, NC (PRWEB) January 29, 2014
Homeowners replacing old tools or adding new ones should put Rockwell's new Compact Circular Saw and BenchJaws at the top of their lists. Replace the old clunky circular saw with Rockwell's Compact Circular Saw that weighs half as much, and install BenchJaws for hands-free clamping right from the workbench.
The 5-lb. Compact Circular Saw's 4-1/2in. thin kerf blade has less than half the thickness of larger 7-1/4in. circular saw blades. Plus, it cuts 2x4's and other 2in. dimension materials in a single pass. Since this smaller, thinner blade takes much less effort and motor strain to cut through the material, the 5 amp, 3500 rpm saw can match the performance of full-size circular saws.
The compact circular saw features a left-handed blade design for greater cut line visibility. Its metal retractable lower blade guard is the same as those found on traditional circular saws. There's a depth of cut adjustment lever for quick and accurate blade height setups. The saw's bevel cutting adjustment is 0-45°. A push-button arbor lock provides fast blade changes.
This compact circular saw is easy to transport and maneuver, especially overhead. Its slim, inline grip design provides great comfort, balance, and control.
The Rockwell Compact Circular Saw (RK3441K, $99.99) is available at http://www.rockwelltools.com and various online and big box retailers. The compact saw is covered by Rockwell's 3-year warranty.
Rockwell BenchJaws is nothing like your father's conventional vise because this bench mounted workshop addition features the characteristics of the popular Rockwell JawHorse. Like JawHorse, space-saving BenchJaws delivers hands free clamping right from the workbench. The jaws, like the JawHorse, are foot-pedal activated leaving the operator's hands free to handle the workpiece. It mounts to a corner of a workbench at least 34in. high through a steel, L-shaped plate. This two-position mount allows for 90° rotation, which is handy when working with larger workpieces.
With each pedal stroke, the jaws close by 3/4 in. This pumping action compresses the jaws until the workpiece is secured. The 6-7/8 in. x 1-7/8 in. jaws have a non-marring face plate.
BenchJaws is constructed of heavy gauge, powder-coated steel for strength and rigidity. The 22 lb. workstation has a clamping range of 0-16 in, and supports loads up to 220 lbs. The vise generates up to one metric ton (2,200 lbs.) of clamping force. BenchJaw's foot pedal has four adjustable height settings.
BenchJaws is ideal for builders, remodelers, woodworkers, automotive enthusiasts, light industrial uses, do-it-yourselfers, hobbyists and crafters by providing an extra set of hands to juggle projects and materials or holding odd-shaped objects.
The Rockwell BenchJaws features optional accessories including the Extension Jaw and the Multipurpose Jaw. The Extension Jaw Accessory increases clamping capacity from 16 to 24 in. The Multipurpose Jaw is self-aligning to accommodate both tapered and round objects. It houses three stops (dogs) for additional clamping versatility. It's ideal for sanding, gluing and painting operations.
The Rockwell BenchJaws (RK9006, $99.99) and accessories; Extension Jaw, (RW9207, $39.99) and the Multipurpose Jaw, (RW9208, $39.99) are available at http://www.rockwelltools.com, Woodworkers Supply, Menards, Amazon.com, and other websites. It's also available through regional hardware and home centers nationwide.
Follow Rockwell tools on Facebook: https://www.facebook.com/RockwellTools?ref=hl ;
Twitter: https://twitter.com/RockwellTools ; Pinterest: http://pinterest.com/rockwelltools/ and
Vine: @RockwellTools
# # #