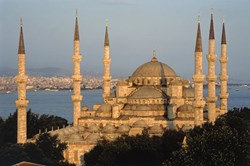 Istanbul is becoming a major player in the world's economy.
(PRWEB UK) 31 January 2014
The company, whose Turkish headquarters is in the popular coastal reaches of Fethiye in the south of the country, now have interests in buying and selling Turkey property which reaches from as afield as Antalya to Izmir. The company also has an office in London in the UK.
Oceanwide Properties' move into Istanbul, a city with more than 18 million citizens, reflects the growing interest in property – both residential and commercial – in Turkey's busiest city which operates in many foreign currencies. The majority of property buyers in Istanbul tend to originate from Russia and the Middle East. Indeed, the highest number of non-Turkish residents in Turkey as a whole is from Russia according to statistics from the Turkish government last year. UK citizens are the third highest non-native group resident in Turkey with Germany the second highest. Interest is also being shown from America and other European nations who are attracted at present by Turkey's current low exchange rate, with the lira having plummeted in recent months.
Plans to build the world's largest airport just outside Istanbul has also made the city more attractive to property investors, as has its geographical location where it is regarded as the primary transport hub between the Middle East and Europe. Infrastructure improvements, including the Marmaray underwater rail tunnel link which connects both Asia and the West underneath the Bosporus Strait is also seen as a plus for global trade connections. Last year, Turkey's export figure exceeded the European average at four per cent compared to 3.2 per cent.
Oceanwide Properties MD Suleyman Akbay said: "The fact that we decided to open up an Oceanwide Properties office in Istanbul makes perfect sense since the city is without a doubt becoming a major player in the world's economy."
"Fethiye and other coastal regions are stunningly beautiful and attract a certain type of investor, whom we have become very familiar with over the years," he added. "With lots of pretty, friendly little villages situated alongside the Mediterranean, Fethiye tends to be an area where foreign nationals look for an apartment or villa where they can retire to for six months of the year while renting the property in Turkey out as a holiday home for the remainder. Families are also attracted to Fethiye because of its amenities and abundance of beaches and greenery."
"Istanbul, on the other hand, appeals to a younger city-loving property investor or couple seeking to invest in buy-to-let apartments. There are also plenty of opportunities for company lets with more international global companies seeking a base in the city for trade links and a presence in a city which is growing rapidly."
Oceanwide Properties have been trading in Turkey and the UK since 2005 where they cater for UK and European citizens looking to invest in a home abroad. For more information, see their website at http://www.oceanwideproperties.co.uk.