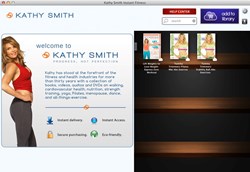 The convenience of being able to start your workout on any smart TV, phone, tablet or laptop in just a few seconds is very appealing to people with today's busy lifestyle.
Los Angeles, CA (PRWEB) January 29, 2014
Kathy Smith began publishing workout programs on vinyl records almost 40 years ago, quickly becoming an icon in the fitness video industry alongside trainers like Jane Fonda, Denise Austin, and others.
A member of the Video Hall of Fame, Kathy's lifestyle products and fitness equipment have helped millions of people improve their health. She has sold over half a billion dollars in endorsed fitness products along with her videos, books, audio tapes and CDs.
Starting on vinyl, then moving to VHS and DVD, Kathy is now leading the fitness world into the Digital Age by offering instant, internet-based access to her fitness videos.
"DVDs will be around for many years, but I see a growing number of consumers who are starting to prefer the instant delivery and accessibility of digital," said Smith. "The convenience of being able to start your workout on any smart TV, phone, tablet or laptop in just a few seconds is very appealing to people with today's busy lifestyle."
"I chose Purple because I needed a reliable, user-friendly way to deliver digital content to my audience. Their platform is scalable and powerful, but they have the business personality of a smaller, entrepreneurial company," said Smith. "I feel at home with them."
Designed to augment and eventually replace the aging infrastructure of physical DVD and Blu Ray distribution, Purple is an open platform for premium video distribution. Purple has delivered over 1.4 million products for dozens of top tier video publishers, delivering a high quality video viewing experience to an industry-leading 99.4% of connected consumers.
"We're honored to be working with Kathy and her team," said Josh Mellicker, Platform Purple CEO. "She is smart to start building a strong digital distribution network that will be a strong, growing and profitable channel for her excellent product library as discs eventually fade into history."
Platform Purple is a unique hybrid, allowing both secure download and streaming access to purchased content on a range of devices, from smart TVs and tablets to laptops and smartphones.
Kathy Smith's growing digital catalog can be found here:
https://shop.platformpurple.com/?shop=2192.
ABOUT PLATFORM PURPLE, INC.
Purple is a turnkey premium video distribution platform open to all publishers, affiliates, and consumers. The platform includes components for publishing, marketing, social product discovery, shopping, syndication, end user delivery and playback of premium video-based products across multiple devices. Purple has made over 1.4 million product deliveries from its growing library of over 11,000 titles for some of the world's top brands in education, health & fitness, instructional & training, and kids' video verticals. Purple is designed to eventually replace the current physical infrastructure of DVD & Blu Ray replicators, distributors, retailers, players and discs.
ABOUT KATHY SMITH
For over 30 years, Kathy Smith has stood at the forefront of the fitness and health industries, with a collection of bestselling books, DVDs, audios and exercise equipment. She has sold more than 20 million exercise DVDs, landing her in the Video Hall of Fame. Kathy's breakthrough techniques for weight loss and healthy living have been featured in countless media outlets, including the The Today Show, The Oprah Winfrey Show, The View, Larry King Live, USA Today, Los Angeles Times, and many more. With a mission to "inspire the best in all people," Kathy is the mother of two daughters and currently resides in Park City, Utah.