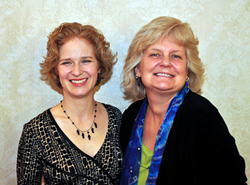 Just being with other women... it was the best form of therapy I could have had.
Amarillo, Texas (PRWEB) January 30, 2014
Making the transition to motherhood can be difficult for women. An upcoming webinar presented by Praeclarus Press and the Simkin Center for Allied Birth Vocations at Bastyr University, will address the issue of how we can best offer emotional support to these women during pregnancy. Join us on February 6, 2014 for another exciting live webinar "Who Will Catch Me?" MotherWoman Perinatal Support Group Model. Our speakers are Annette Cycon, LICSW and Liz Friedman, MFA.
In this webinar participants will learn about the many ways in which perinatal support groups are an effective treatment modality for mothers who are struggling in the perinatal period. They will also learn the basic components of the MotherWoman Group Model© based on the principles of SEE – Safety, Education and Empowerment. Learn how support groups can transform the lives of mothers and provide essential protection from the inevitable challenges of motherhood!
Participants will learn how perinatal support groups enhance existing community resources for mothers, and how stigma, lack of trust and isolation can negatively impact a mother's perinatal emotional experience. The MotherWoman Group Model© provides mothers and communities with an accessible treatment modality for families struggling in the perinatal period by creating safety. It also ensures mutual respect for women to share authentic experiences of motherhood, especially those which are difficult or taboo to express. The elements of Safety, Education and Empowerment, upon which the the MotherWoman Perinatal Support Group Model© is based, serve to encourage each woman's inherent strength and resiliency.
Sign up today to reserve your spot to attend this live webinar on February 6, 2014, 3:00 p.m. EST. This event will also be recorded for those who cannot attend the live event. A link for the recorded webinar will automatically be sent to everyone who registers.
Praeclarus Press is a small press founded by Dr. Kathleen Kendall-Tackett and specializing in women's health. It features books, webinars, and products that support women's health throughout the lifespan. Praeclarus Press is based in Amarillo, Texas, USA.