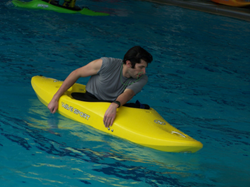 Charlemont, MA (PRWEB) January 29, 2014
While the cold winter winds blow outside, paddlers will be gathering at the Hockomock Area YMCA in Franklin, Massachusetts on February 8th to hop in their boats for the first of Massachusetts whitewater outfitter Zoar Outdoor's winter pool rolling sessions. These sessions, running on select Saturdays throughout February, March and April, give paddlers a chance to work on their skills before spring rolls around.
In the pool, paddlers get the chance to practice in a low consequence environment. With no rocks underwater and no current, students can focus all of their attention on the task at hand. For most, that task will be learning how to roll - how to right a capsized boat without having to pull over on shore. It's a critical skill for whitewater paddlers, as it's often difficult and sometimes dangerous to swim to shore in order to get back in your boat. But it's also a skill that doesn't come quickly to most, and takes hours of practice before it's ingrained in muscle memory well enough to be able to pull it off in the middle of a class III rapid. That's why so many paddlers keep returning to Zoar Outdoor's winter pool clinics every year - to put in a few extra hours of hard work so they can perfect their roll and take on bigger rapids with confidence.
This winter's pool rolling clinics will be held on select Saturday evenings in February, March, and April at the Hockomock Area YMCA in Franklin, MA. For more information and to sign up, visit Zooar Outdoor's website or call 1-800-523-7483.