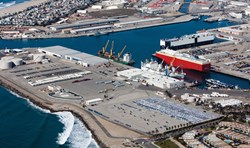 As a part of the Oxnard community, GAPS and our employees are excited to continue the growth of our partnership which began in 1997
PORT OF HUENEME, CALIFORNIA (PRWEB) January 29, 2014
Port Officials and Global Auto Processing Services (GAPS) executed a fifth modification of its 2007 contract extending their agreement for an additional five years through January 31, 2019. The Port welcomed GAPS for the first time in March 2007.
Said Harbor Board President Mary Anne Rooney, "GAPS Vehicle Distribution Center is a vital community partner and a significant economic engine, employing up to 85 workers most of whom live in Oxnard and Port Hueneme and further employs no less than 40+ temporaries, with an overall estimated payroll of roughly $4.4 million a year."
GAPS's Executive Vice President Michael Wynn-Song said, "As a part of the Oxnard community, GAPS and our employees are excited to continue the growth of our partnership which began in 1997 as P&Y Enterprises and has seen over a million vehicles pass through this facility."
Port CEO and Executive Director Kristin Decas noted at the announcement, "In addition to GM and U.S. manufactured Honda exports, GAPS partners with logistics provider Glovis USA, (the logistical arm of Hyundai/Kia), to handle the Hyundai and Kia family of Korean manufactured automobiles. We greatly value this partnership and look forward to many more years as partners".
GAPS functions as a highly qualified team of premier auto processing professionals. Their all- inclusive team-oriented organizational structure combined with their many years of industry experience has resulted in a no nonsense commitment to excellence which has enabled GAPS to provide consistently high levels of quality service.
The Port of Hueneme is one of the most productive and efficient commercial trade gateways for niche cargo on the West Coast. The Port is governed by 5 locally elected Port Commissioners. The Port moves $7 billion in goods each year and consistently ranks among the top ten U.S. ports for automobiles and fresh produce. Port operations support the community by bringing $1 billion in economic activity and creating 9,448 trade related jobs. Trade through the Port of Hueneme generates more than $63 million in annual state and local taxes which funds vital community services.
We Make Cargo Move.