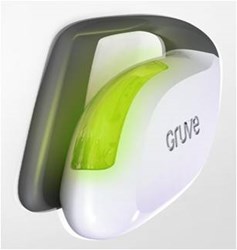 we are leveraging available technology to make it easier than ever for users to access the support program online regardless of their preferred device
Minneapolis, MN (PRWEB) January 30, 2014
Gruve Technologies, Inc., a leading provider of scientifically-proven health and weight loss products, has upgraded the Gruve® activity monitor automatic software interface to Gruve Online (TM) to work with the latest release of the Mac OS 10.9 (OS X Maverick).
The Gruve's automatic software interface is compatible for both PC and Mac operating systems. With the new interface, the following systems are now supported: Microsoft Windows 7; Microsoft Windows 8; Microsoft Windows Vista (32 or 64 bit); Microsoft Windows XP; Mac OS 10.7 (OS X Lion); OS 10.6 (OS X Snow Leopard); OS 10.5 (OS X Leopard); and OS 10.9 (OS X Mavericks).
"The Gruve can be used by everyone regardless of age, fitness level or physical limitations to help them reach their health goals," says Dr. Robert Gauthier, CEO, Gruve Technologies, Inc. "And, to do our part, we are leveraging available technology to make it easier than ever for users to access the support program online regardless of their preferred device."
The Gruve is part of a wellness solution that provides a personalized plan for the user that is calibrated to the user's specific metabolism and habits. The Gruve device uses an omnidirectional accelerometer and proprietary software to accurately measure and record the user's daily NEAT activity intensity and duration. The medical quality device can record 98% of daily activity, the highest accuracy in the industry and has three forms of feedback to keep the user on track—color changing calorie burn status lights, vibration to remind the user to move, and interactive website visuals. These physical cues help the users to modify their behavior over time and provide a sustainable path to successful weight reduction, maintenance, and improved health.
About Gruve Technologies, Inc.
Gruve Technologies, Inc. provides scientifically validated weight loss and wellness products designed to provide a long-term sustainable path to better health. Headquartered in Minneapolis, MN, Gruve develops innovative technology and products based on cutting-edge medical research that are proven effective to modify behavior and aid in weight loss. For more information, visit http://www.gruvetechnologies.com.