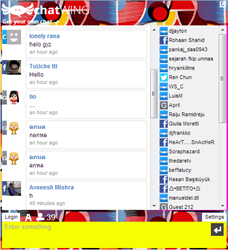 San Francisco, CA (PRWEB) January 29, 2014
Chatwing is now embarking on a new journey as its developers unveiled their expansion in online sustainable communities. Accompanying this initiative, Chatwing Team created a special chatroom that can help sustainable product makers in marketing processes. The chat app can also help the product makers in building subscriber groups.
Sustainable product makers have been around for a few years now and blogs have helped them become renowned. Chatwing interviewed some product makers and realized that not all of them are getting the necessary web exposure. To deal with this, Chatwing chat room software offers its newest chat app to the product makers. Those who have used the application reported a marginal increase of their website hits.
Logistic is one of the factors why the Chatwing app is useful for sustainable entrepreneurs. Those who are selling health-related products can share quick bits of information in the chatroom. Since people are always skeptical regarding health products and most of them are busy, the Chatwing widget makes the process easy. Sharing updates about the products can also be done in little time.
Another important leverage of Chatwing chat app is social media connectivity. The widget utilizes these login systems: Facebook, Twitter, Instagram, and Tumblr. Google and Yahoo accounts can also be used. With social media integration, website owners can expand their horizons and reach more people.
Chatwing chat software is committed to bringing more upgrades to the innovative widget. Through these upgrades, people will gain enhanced chatting experience, thus allowing them to reach their online goals faster.
About Chatwing.com
Chatwing.com is a company that has brought innovation to the modern chat widget. Operating for more than five years now, Chatwing and its team of developers have dozens of ideas ready to be introduced to the public. The Chatwing chat app is an easy-to-use online tool that can help web users interact with each other and can also generate continuous traffic. Chatwing will always be a "freemium" application for everyone.