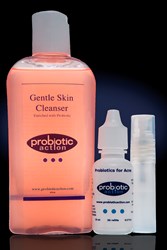 This could be a major breakthrough for helping women lose weight
Miami, FL (PRWEB) January 29, 2014
On January 29, 2014, Probiotic Action remarked on a recent study examining the usage of particular probiotics being used to help overweight women lose weight and maintain the weight loss.
As reported on MedicalXpress.com, the study was based on the existing fact that "intestinal flora of obese individuals differs from that of thin people. That difference may be due to the fact that a diet high in fat and low in fiber promotes certain bacteria at the expense of others." With that in mind, the study, headed by Professor Angelo Tremblay, focused on 125 test subjects, who "underwent a 12-week weight-loss diet, followed by a 12-week period aimed at maintaining body weight. Throughout the entire study, half the participants swallowed 2 pills daily containing probiotics from the Lactobacillus rhamnosus family, while the other half received a placebo. After the 12-week diet period, researchers observed an average weight loss of 4.4 kg in women in the probiotic group and 2.6 kg in the placebo group. However, no differences in weight loss were observed among males in the two groups."
Fernando Perez, the spokesperson for Probiotic Action, feels that this research could have a significant impact on weight loss regimens for women in the future. He says, "This could be a major breakthrough for helping women lose weight. In addition to dieting, a regimen of probiotics could help women lose and keep weight off for the long term. Instead of falling prey to the dangers of yo-yo dieting, some women would actually be able to maintain the weight loss and be healthier."
Continuing, Perez says, "Women who previously had problems keeping weight off for reasons unbeknownst to them would now understand the importance of maintaining the proper levels of bacteria in their stomachs. It might be a stretch to think that the probiotics that they use in their acne treatment could help them lose weight, but they're all related."
Probiotic Action, a pioneer in natural acne treatment, follows all probiotic-associated products to collect information in order to help educate the public on the power of probiotics for skin care and overall health. For more information, please visit ProbioticAction.com.