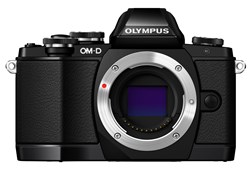 New York, NY (PRWEB) January 29, 2014
Olympus today introduced five brand new digital imaging innovations (three cameras and two lenses) for its spring lineup. Available now for pre-order at Adorama, one of the world's largest photography, video, imaging and electronics retailers, the brand new Olympus digital cameras include the E-M10, an interchangeable lens camera from its award-winning OM-D family; the Olympus STYLUS® SP-100, the world's first-ever camera with a built-in dot-sight for tracking moving subjects; and the super TOUGH® STYLUS® TG-850 camera designed for the most rugged adventure. Accompanying the outstanding camera lineup are two new Micro Four Thirds lenses. The super-slim M.ZUIKO DIGITAL 14-42mm f3.5-5.6 EZ pancake zoom lens measures just .9 inches thick, making it the world's slimmest standard zoom lens. It has a smooth electric zoom that is suitable for shooting movies, and can also be zoomed in and out remotely using compatible smartphones through the updated Olympus Image Share app. The super bright, lightweight, high-performance M.ZUIKO DIGITAL 25mm f1.8 lens has a fixed focal length and is ideal for capturing portraits or close-ups from as little as 9.8 inches away.
Photo Expert Mason Resnick Takes Industry's "First Look" at the New Olympus OM-D E-M10
Adorama Learning Center's Mason Resnick, a technology and photo industry expert, is one of the first to review the Olympus Spring lineup cameras and lenses. His article about the new OM-D E-M10 can be read at http://www.adorama.com/alc/0014522/blogarticle/first-look-olympus-omd-em10-budget-buster-evf-milc.
New Olympus Micro Four Thirds Accessories
A host of new Micro Four Thirds accessories join the Olympus Micro Four Thirds lineup, including the fixed-aperture F8.0 Fish Eye Body Cap lens with a focal length of 9mm (35mm equivalent: 18mm). It's an ultra-slim accessory for creative wide-angle shooting through its five-element, four-group lens construction. The multi-use lens barrier MF lever switches from pan focus shooting to close up eight-inch shooting with a single press of the lever. The ECG-1 matching ergonomic grip is a removable grip exclusively for use with the E-M10. Designed for absolute comfort, the grip is the perfect thickness for resting the ring finger and pinky when holding the camera. A single press of the lever on the bottom of the grip easily removes it, making replacing batteries and memory cards seamless. The MCON-PO2 macro converter is compatible with six Olympus Micro Four Thirds lenses and adapts them for close-up shooting. Finally, the Automatic Opening Lens Cap LC-37C is available exclusively for use with the new M.ZUIKO DIGITAL ED 14-42mm F3.5-5.6 EZ. When the camera is turned off, this accessory protects the lens from dust and scratches, and when the camera is powered on the lens cap instantly opens for snapshots and quick shooting.
Pricing and Availability
The Olympus E-M10 Body Only (Black, Silver) retails at 699.95 USD
The Olympus E-M10 w/14-42 2R Lens (Black, Silver) retails at 799.95 USD
The Olympus 14-42/3.5-5.6 EZ M4/3 (Black, Silver) retails at 349.99 USD
The Olympus 25MM F/1.8 - Micro 4/3 (Black, Silver) retails at 399.95 USD
The Olympus SP-100 Digital Camera (Black) retails at 399.95 USD
The Olympus TG-850 Digital Camera (Black, Silver, White) retails at 249.99 USD
The Olympus ECG-1 Black Camera Grip F/E-M10 retails at 59.99 USD
The Olympus MCON-P02 Macro Converter retails at 69.99 USD
The Olympus Body Cap Lens 9MM F8.0 (Black) retails at 99.00 USD
ADORAMA: More Than a Camera Store
Adorama is more than a camera store – it's one of the world's largest photography, video, imaging and electronics retailers. Serving customers for more than 30 years, Adorama has grown from its flagship NYC store to include the leading online destination for photography, imaging and consumer electronics. Adorama's vast product offerings encompass home entertainment, mobile computing, and professional video and audio, while its services include an in-house photo lab, AdoramaPix, pro equipment rental at Adorama Rental Company, and the award-winning Adorama Learning Center, which offers free education for photographers in video channels such as the popular Adorama TV.
Adorama is listed as Forbes.com's "Best of the Web" and in the Internet Retailers Top 100, and is the official Photo and Electronics Retailer of the NY Giants.
Visit ADORAMA at http://www.adorama.com.