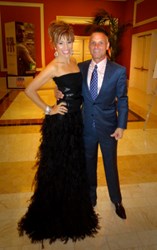 What an honor to have both of these world class entrepreneurs lean in to help small business grow to their full potential
Clearwater, Florida (PRWEB) January 30, 2014
TV Celebrity and National Fitness Hall of Fame inductee Forbes Riley along with ABC-TV's Shark Tank's Kevin Harrington are headlining the internationally acclaimed entrepreneurship program, KPI: Key Person of Influence here in the United States on January 31, 2014.
Unlocking the secrets of entrepreneurial success for attendees, Riley and Harrington bring their incomparable experience and achievements to the stage with more than $8 billion in combined television sales to their credit. These two masters will highlight key components so participants can master the pitch of their brand, company and products.
The best in the industry at the top of their careers, Riley is this year's ERA Moxie Award winner for "Best Female Presenter of the Year," and Harrington is the recent Lifetime Achievement Award winner for his work and legacy in infomercials. These are two of the most influential people when it comes to launching new products on TV, creating multi-million dollar pitches and helping entrepreneurs realize their dreams.
"We look for local heroes who display the qualities of leading entrepreneurs. I was overjoyed when Forbes Riley and Kevin Harrington agreed to mentor entrepreneurs here in Tampa," said Daniel Priestley, best-selling author of Key Person of Influence. "These world-class entrepreneurs care deeply about the entrepreneurial journey, and they are leaning in to help successful small businesses grow up to their full potential."
Forbes Riley is kicking off the KPI event with: "The Magic of the Pitch" where Riley will detail powerful strategies to create the perfect pitch with proven results, which she has used hosting more than 125 national infomercials, spanning 25 years of live Home Shopping success on four continents. Most notably these infomercials include the Jack LaLanne Juicer, Montel Williams' Health Master and the Forbes Riley SpinGym.
When Riley is not speaking and presenting around the globe, coaching C-level executives Fortune 500 companies and entrepreneurs, she is running her fitness empire from her film and television production studio in St. Petersburg, Florida and in the spring launches a new tv series called Forbes Living TV. Kevin Harrington has promised to make guest appearances, "I have known Forbes north of 20 years, she's a real gem, a real pro and it will exciting to see this new venture, I support her 100%"
The pair can be seen live in Clearwaterm Florida on stage Friday January 31st at Ruth Eckert Hall teaching, coaching and mentoring inventors, entrepreneurs and business the secrets to making millions in business.
###
About Forbes Riley™
Forbes Riley, recently named America's Most Loved Health & Fitness Innovator, continues her passion of bringing affordable, high-quality fitness, health and household products to consumers worldwide and is part of an overall mission to help people live stronger, healthier, more balanced lives.
Forbes is a regular presence on televisions worldwide as a product spokesperson and television host--appearing on such networks as ESPN, TLC, Fit-TV, Animal Planet, ABC Family, Home Shopping Network, QVC, The Shopping Channel (Canada), QVC London and has been profiled by Forbes Magazine in the E! Network special "Outrageous Fortunes." As an actress Forbes has appeared in numerous feature films, television shows and even live on Broadway. Forbes also is a health and fitness regular correspondent on Hallmark's Home and Family, NBC's The Doctors and a wide variety of news shows and daytime talk shows.
Forbes can be seen regularly alongside such celebrities as Mary J. Blige, Tori Spelling, Martha Stewart, Kelly Ripa, Wolfgang Puck, and Susan Lucci on HSN promoting her unique brand of lifestyle products including the Award Winning SpinGym. Forbes has built her success on establishing trust with her audience and creating products that are portable, affordable and produce dynamic results.
To add to her inspirational collection, Forbes has launched a series of brightly colored versions of her popular SpinGym fitness sensation along an inspirational book, "e.a.t – a Journal for What You Eat and for What's Eating You."
Forbes Riley's dedication to providing unique solutions and innovative products extends beyond her own products and she has opened her own multi-media production studio located in St Petersburg, Florida, which is used to shoot productions, host masterminds, conduct media coaching and bring people together from around the world. Forbes offers an exclusive one-on-one coaching to get people to achieve their next level of success in health, wealth and happiness.
For more information about Forbes Riley, please visit http://www.ForbesMembersite.com
About Kevin Harrington
Kevin Harrington served as CEO and President of HSN (Home Shopping Network) Direct International, Inc. and other corporations in his illustrious investment history. He is currently Chairman of As Seen On TV, Inc., and has been involved with over 500 product launches that resulted in sales of over $4 billion worldwide.
Throughout his career, Kevin helped to establish two of the most important and recognized global networking associations: the Entrepreneur's Organization, or EO (formally known as the Young Entrepreneurs' Organization) and the Electronic Retailing Association, or ERA. Today, the EO has 113 chapters in 38 countries and more than 924,000 members. The ERA represents the $125 billion electronic retailing industry and is comprised of over 450 member companies and subsidiaries that use the power of electronic retailing to sell directly to consumers via television, radio, Internet and wireless media in over 100 countries worldwide.
Due to his extensive resume, Kevin was selected as an investor "Shark" on the ABC television series Shark Tank produced by Mark Burnett. The show gives budding entrepreneurs the chance to pitch their products to a panel of acclaimed judges in hopes of turning their ideas into a successful business reality. He recently released a book entitled "Act Now: How I Turn Ideas into Million-Dollar Products" that chronicles his life and experiences in the DRTV industry.
About KPI
KPI: Person of Influence (KPI), a one-day event that has had massive success in the U.K., Australia and Singapore, makes its U.S. debut in Tampa. KPI is based on the five-step sequence to becoming one of the most highly valued and highly paid people in your industry, and focuses on: the art of the pitch, getting published, product development, profile building and partnerships. The event was developed after the book Become a Key Person of Influence, which is a business bestseller. (Author Daniel Priestley will be in attendance)