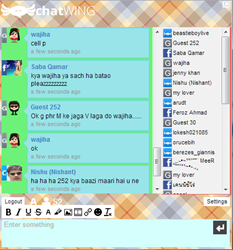 San Francisco, CA (PRWEB) January 30, 2014
The premise of sustainability is on the rise, especially with the boom of websites and blogs. This statement is based on the analysis done by Chatwing Research Team. To tap on this monumental niche growth, Chatwing chat software has created a special chatroom meant to empower the discussions of sustainable improvement. These discussions are focused on DIY home improvements and alternatives.
"Creating a chatbox for sustainable improvement discussions is more than just a sleek online step," Mike Diamond said. He is the team's project leader for the sustainable chatroom. "Now, people can discuss about home improvements that are economical and budget-friendly. They can also discuss about tutorials and reference materials for their sustainable projects. Chatwing offers full support for this niche."
Chatwing is also integrated with Facebook and Twitter. Through these social networks, project makers can now create subscriber groups. This is essential if they project makers maintain blogs and websites. The Chatwing widget's functionality is magnified once it is embedded to a website. It appears as an online lounge for visitors—any type of discussion is allowed.
Full control is given to any registered Chatwing user. Customizing the widget only takes a few seconds, and the user can combine font colors, styles, and sizes. Social media functions can also be adjusted. To protect the credibility of the chatroom from obscene people, the user can utilize the word filter system—any word can be filtered. Additionally, any visitor of the chatroom can be banned for an indefinite period of time.
Chatwing's chat room software developers are always looking forward to making a competitive web chat box. This step can only be done through strong dedication and strategic thinking. Information about Chatwing's strategies is available in Facebook and Twitter.
About Chatwing.com
Chatwing.com is a company that has brought innovation to the modern chat widget. Operating for more than five years now, Chatwing and its team of developers have dozens of ideas ready to be introduced to the public. The Chatwing chat app is an easy-to-use online tool that can help web users interact with each other and can also generate continuous traffic. Chatwing will always be a "freemium" application for everyone.