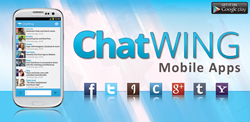 San Diego, CA (PRWEB) January 31, 2014
After introducing the interactive sustainable discussion chat box, Chatwing Team is now compiling popular research ideas. These ideas came from the sustainable chatbox itself, and the developers believe that the ideas can help people—especially those who are forming online communities and forums. Noted below are some of the research ideas gathered by Chatwing developers:

Healthy food choices. In the era of processed foods and nourishment, consumers have been eager to find healthy alternatives. This statement is based on the growing number of health blogs, websites, and forums. Chatwing Chat App Team has also looked into sustainable chatbox and realized that hundreds of health-conscious users have been exchanging food-related topics over time.
Home improvements. Sustainable home improvements are also common since many users are looking for ways on how to have economical lifestyles. Additionally, home improvements with green décor can change the users' perspectives. Chatwing chat software gathered different ideas about home improvements. Some users have also been posting photos and video links of their projects.
Economical outdoor gear. Research ideas never stopped appearing in the sustainable chatroom. Visitors have also posted topics about economical outdoor gear—camping materials, utilities, and even supplies made of natural components. Visitors believe that natural materials are cheaper compared to artificial ones. Chatwing moderators have also see price comparisons among different natural materials.
Chatwing's sustainable chat room software is monitored on a daily basis. This is the same for all of the company's niche chatrooms and lounges.
About Chatwing.com
Chatwing.com is a company that has brought innovation to the modern chat widget. Operating for more than five years now, Chatwing and its team of developers have dozens of ideas ready to be introduced to the public. The Chatwing chat app is an easy-to-use online tool that can help web users interact with each other and can also generate continuous traffic. Chatwing will always be a "freemium" application for everyone.