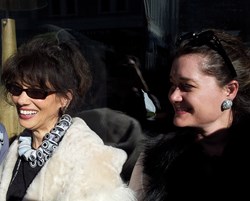 The town of Park City, Utah blooms with creativity as the movie industry moves in for two weeks and we wanted to make a splash.
Park City, UT, Santa Fe, NM, Philadelphia, PA (PRWEB) January 31, 2014
Jewelry artist David Forlano joined his wife, Debrianna Mansini, at the Sundance Film Festival for the world premiere of the film, "Drunktown's Finest." Mansini was cast in a supporting role for the film directed by Sydney Freeland and executive produced by Robert Redford. Many of the "A" list celebrities were seen dressed down in jeans, plaid shirt or a ski cap while Forlano and Mansini wore some of the best American handmade finery. Forlano provided some of the most spectacular necklaces and jewelry made by his collaborative artistic duo with Steve Ford -Ford/Forlano. Morning-Star Angeline, star of "Drunktown's Finest," and contemporary portrait artist Robbi Firestone also sported Ford/Forlano at the festival. Firestone was seen wearing Ford/Forlano's signature Big Bead Necklace and a pair of button earrings. A selection of images taken at the red carpet event can be seen in the Getty Images library online for Morning-Star Angeline and Debrianna Mansini both wearing work by Ford/Forlano. For the world premiere of the film, Mansini wore "shell" earrings and a pebble cascade necklaces. Angeline wore a pair of "shell" earrings.
In addition to the unique jewelry of Ford/Forlano, Mansini also wore clothing by Santa Fe designers Atelier Danielle and Elven Velvet and shearling coats by Cindy Spolek. Forlano wore shirts by Frittelli and Lockwood, a scarf by Amy Putansu and a shearling coat by Cindy Spolek.
"We had no idea what to expect. The town of Park City, Utah blooms with creativity as the movie industry moves in for two weeks and we wanted to make a splash," says Forlano. "Park City's Main street is packed with people and celebrities of the independent film industry. At times, it was obvious there was a star nearby when people like Kurt Russell and Bob Odenkirk were on the street and gracious enough to stick around for photos. Other moments were more down to earth and it felt like I was not looking at a hologram of a famous person but just a person I recognize, like a family member or friend."
The work of Ford/Forlano is in the permanent collections of eight museums including the Philadelphia Museum of Art, the Museum of Fine Arts Boston, and the Newark Museum. Chief Curator and Curator of Decorative Arts of the Newark Museum, Ulysses Dietz, said recently, "Steven Ford and David Forlano's work represents, to me, the single most transformative influence in the world of polymer clay. They have ennobled a material relegated to preschools and have developed a design vocabulary as deeply rooted in modern art as it is in craft."
Their schedule of top tier shows continues in the Spring 2014 with the Smithsonian Craft show at the National Building Museum in Washington D.C, Craftboston at the Cyclorama, and the American Craft Council show in Baltimore.
About Ford/Forlano:
Steve Ford and David Forlano have been creating contemporary jewelry since 1988. Both artists studied at Tyler School of Art in Philadelphia and Rome. They first developed their work under the business name, "City Zen Cane" and with the addition of precious metals in the 1990's changed the name to Ford/Forlano. Their collaboration has placed their work in many publications, galleries, public and private collections. They continue to break new ground in contemporary American craft jewelry. For more information, visit fordforlano.com.