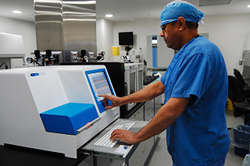 This should translate into more successful pregnancies, says Dr. Hitkari.
Vancouver, Canada (PRWEB) January 29, 2014
For the 1-in-6 BC couples struggling with the financial and emotional burden of infertility, a breakthrough new technology may increase their odds for success by allowing doctors to identify embryos most likely to have normal DNA. Recently approved by the FDA, the EmbryoScope has been shown to significantly improve pregnancy rates and potentially reduce miscarriage with in vitro fertilization (IVF).
Olive Fertility Centre is the first fertility clinic in Western Canada to offer IVF patients this clinically-tested system that uses video to continuously monitor embryo development from the time of fertilization to the time of transfer into the mother's uterus. (See video of embryo development. )
"This technology allows us to improve the chances of a healthy pregnancy for our patients as well as being an invaluable research tool that enables us to collect new data on human embryo development," says Dr Jason Hitkari, a reproductive endocrinologist, UBC clinical professor, and medical director at Olive Fertility Centre. A major challenge with IVF is identifying the best embryo to transfer back to the mother's womb.
"Currently, we are only able get a snapshot glimpse at the embryos development at specific points in time," explains Dr Hitkari. "This involves removing the embryos from the incubator to assess their appearance. While we are able to get good success rates with this approach, many embryos that look normal do not implant, often times because they abnormal chromosomes."
According to recent studies, embryos which show irregular division patterns have a much lower pregnancy potential because they are likely to have abnormal DNA. "Chromosome abnormalities are the biggest cause of IVF failure," says Dr Hitkari. "The way the EmbryoScope works is that it allows us to capture very precise information about the timing of cell division and more accurately select those embryos that are more likely to be chromosomally normal. This should translate into more successful pregnancies."
Another advantage of this technology is that it has the potential to reduce the risk of twins and other multiple pregnancies. The EmbryoScope allows doctors to select fewer embryos for transfer with greater confidence, thus potentially reducing the complications associated with a multiple pregnancy.
"We are constantly searching for ways to improve pregnancy success rates while maintaining the health of the mother and baby," says Dr Hitkari. "This technology potentially allows us to transfer a single embryo and still achieve high, or even higher, pregnancy rates than we get with the transfer of two or more embryos in a standard IVF."
Over 88,000 embryos have been analyzed using this technology in over 30 different countries, and the experience at most clinics has been an improvement in pregnancy rates of up to 25%. With the increased success rate that this technology offers, couples will potentially need to undergo fewer IVF cycles in order to have a successful pregnancy. As Dr Hitkari says, "This can help alleviate the financial and emotional stress that many patients experience with infertility."
About Olive Fertility Centre:
Located in Vancouver, BC, Olive Fertility Centre is one of Western Canada's largest IVF and prenatal diagnosis centres. With innovative programs that include the EmbryoScope, specialized genetic testing, egg freezing, and prenatal NIPT testing, Olive Fertility provides comprehensive fertility care to infertile couples, single women, and same-sex couples.