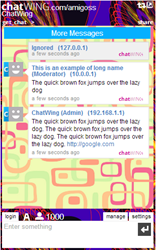 Dallas, TX (PRWEB) February 02, 2014
Chatwing.com is offering a latest dynamic chat app that can be used by game bloggers in achieving decent web exposure. The widget appears in the form of a chatroom tool that can be embedded in different styles. The tool can also be used to generate online traffic in just few days of usage, and users can also try it Google and Yahoo login methods.
By adding Google and Yahoo in login selections, Chatwing chat software has opened a new set of possibilities. Since people are always checking out their emails, based on several studies, the chatroom's popularity rate has increased. More game bloggers can now have the opportunity to install the Chatwing widget in their blogs.
Installation is a simple, straightforward step. After registering, the user can now go directly to the dashboard. There, a default chatbox is already made, but the user can make certain adjustments. He can mix and match colors and sizes in order to achieve the right appearance. Aside from that, he can also set up word filters to ensure the credibility of the website. For finished designs, the user can just check out Chatwing's selection of background themes.
Like other niche, game blogging is still a primary driving force in the cyberspace. This is why Chatwing Team is making new enhancements that will give better communication leverage to all game bloggers. Information about upgrades will be presented in Chatwing's chat app social networks.
About Chatwing.com
Chatwing.com is a company that has brought innovation to the modern chat widget. Operating for more than five years now, Chatwing and its team of developers have dozens of ideas ready to be introduced to the public. The Chatwing chat app is an easy-to-use online tool that can help web users interact with each other and can also generate continuous traffic. Chatwing will always be a "freemium" application for everyone.