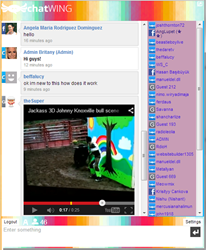 New York, NY (PRWEB) February 05, 2014
DOTA 2, one of the fastest-growing MOBA (Multiplayer Online Battle Arena) of today, is now the primary target of Chatwing Team for online expansion. The company attempts to reach out to DOTA 2 players by creating a chatbox tool capable of enhancing overall communication experience. For serious DOTA 2 players, this is an opportunity to find new peers and intense game matches.
"Here at Chatwing's chat software office, we favour gaming. In fact, most of our developers here are gamers. There's no arguing with that. The recent expansion campaign in MOBA communities pushed us to reach DOTA 2 players. This is a clear milestone for Chatwing and everyone else who are looking forward to use the chat app. And yes, we will add DOTA 2-styled background themes," Ivan Diamond—respected Chatwing developer—said. He is the one who pitched the idea of reaching out to DOTA 2 players.
DOTA 2 bloggers who are post-recording their games can rely on the Chatwing chatroom in the principle of website exposure. Once Chatwing chat app tool is installed, it will generate continuous web traffic; the pace will be gradual at first, then it will build up. Customization is also the core of the chat tool, and bloggers can try out different designs and styles.
Chatwing Team expects that DOTA 2 chat rooms software will have high visits from many players across the world. To cope with this, the developers will monitor the chatrooms on a daily basis.
About Chatwing.com
Chatwing.com is a company that has brought innovation to the modern chat widget. Operating for more than five years now, Chatwing and its team of developers have dozens of ideas ready to be introduced to the public. The Chatwing chat app is an easy-to-use online tool that can help web users interact with each other and can also generate continuous traffic. Chatwing will always be a "freemium" application for everyone.