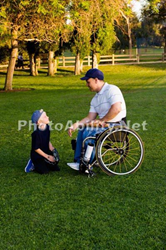 Be a part of this growing and increasingly important trend to showcase individuals of all abilities in Print, Media and television by considering working with a talent who is willing and able to take on this challenge and forge a new path together.
Fort Lauderdale, FL (PRWEB) January 30, 2014
Seeking creative, artistic and inspired photographers who will be matched up to create photo shoots with models of different physical abilities in their respective regions.
PhotoAbility, a new niche photo library, was founded in 2012 based on the idea that there is a market and a need for authentic, positive, non-medically oriented stock image opportunities that will be inclusive of individuals with a disability.
Whether they are a wheelchair or mobility device users, or those with other noticeable disabilities, together with selected photographers, models selected will produce images that will demonstrate that powerful editorial, commercial, lifestyle or creative images can be created while reflecting the beauty of "Inclusivity."
Questions and comments are encouraged, and photographers interested can respond to casting by sending an email containing: an introduction, website link or portfolio, name, city, state, email, and phone number. Prospective models of all ages can submit their photos and bio on the Model entry page.
Together, a team approach will result in great work with as many poses and shots as you can imagine - being creative is encouraged.
Companies, advertisers, marketers, publishers, creatives, and designers will be inspired by images created exclusively for the library to choose images that represent a segment of a diverse population inclusive of persons of all ages and abilities. PhotoAbility can also help companies find the right model and photographer for a custom photo-shoot. They believe these images will fulfill a need for a large segment of our society generally ignored, allowing them to be seen and recognized for their talent, beauty, abilities and economic impact!
While specific requests for a" Model/Actress in wheelchair" are rare, it is the goal of the library that, upon seeing the work created through these shoots and posted in the PhotoAbility photo library, that the potential client may start to see that including models with disabilities into their ad campaigns is a viable and financially beneficial choice as it will speak volumes to display this underestimated segment of the market. Or even better, "a light bulb may go off" and they may see the disability as an interesting choice they had not considered.
Recently, more and more individuals with disabilities have been visible in the media:

Deisel, Nordstrom, Target, Starbucks, Buy.com and Debenhams have all featured disabled models:
Mutual of Omaha featured the wonderful LA Actress Teal Sherer (The Election)
Nike and L'Oreal feature inspirational commercials with real disabled athletes.
Reality Dramas such as: PUSH girls on the Sundance channel
My Gimpy Life with Teal Sherer on YouTube
The Glee Project Season 2 starring singer and actress Ali Stroker
Additionally, the many movies and other television shows that include disabilities in their story-lines is indicative of this new wave that is forming...so be sure to be on the ride!
Photographers and potential models who want to be a part of this growing and increasingly important trend to showcase individuals of all abilities in print, media and television will work together with the PhotoAbility team to take on this challenge and forge a new path together.
Photographer are also invited to upload photographs they have already taken, or will take, featuring individuals with disabilities into the FILE UPLOAD FACILITY for professional photographers, or, for casual photographers, using our Easy Upload form.
Companies can contact PhotoAbility to discuss a quote, a casting call for their next project, or follow us on Facebook and Twitter to keep up with the newest images and news.
"There are an estimated 650 million persons living with disabilities in the world today. If one includes the members of their families, there are approximately 2 billion persons who are directly affected by disability, representing almost a third of the world's population."
United Nations Convention on the Rights of Persons with Disabilities (2008)
PhotoAbility was established in March 2012 by Bill Forrester and Deborah Davis with the goal of providing high quality, unique, non-medically oriented imagery of persons with disabilities for purchase by the advertising, marketing and media sectors. The Commercial Stock Image Library specializes in positive and "Inclusive" images of people with a disability in leisure, lifestyle and travel settings.
The 2000+ inclusive images depicted in the PhotoAbility gallery are designed to impact attitudinal bias, change perception and provide motivation to eliminate and reduce social, structural and professional barriers. A wave of change reflected in popular media and advertising can make an impact on laws and attitudes around the globe, and on how those with differing abilities view themselves.
For more information and to view PhotoAbility.net's positive, inclusive Stock Images, please visit http://www.PhotoAbility.net