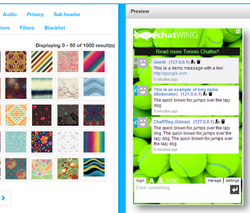 Cambridge, MA (PRWEB) February 08, 2014
Webinars are things of the future. Professionals attest to this, since the opportunities presented of the World Wide Web are immense. Taking this fact heavily, Chatwing Development Team designed a widget that can help business webinar makers in finding clients and subscribers. Webinar makers can take advantage of the Chatwing app in different ways:

Relaying updates. Once installed in any website, webinar makers can now relay updates with ease. Website owners can leave short snippets and messages in the chatroom—to be seen by hundreds of visitors. This is a good opportunity to market an existing webinar, or a relatively new one. The Chatwing chat widget also has unlimited message storage, so the visitors can check out messages as often as they want.
Client analysis. Since there is freedom of information in Chatwing chat software, visitors can share their sentiments as often as they want. Business webinar makers can use this advantage to learn more about their clients. Once the clients' needs are assessed carefully, webinar makers can now introduce their products and services with ease.
Facebook advantage. The Chatwing widget has been integrated with Facebook since last year, and the developers continued creating more enhancements. This Facebook integration may appear simple on the upfront, but it is an advantage that webinar makers should take. Once visitors log in with their Facebook accounts, the webinar makers can now invite them to groups and further discussion pages.
Chatwing's innovative chat app application will have more upgrades throughout the year. Users can expect for better website chat experience and higher leverage.
About Chatwing.com
Chatwing.com is a company that has brought innovation to the modern chat widget. Operating for more than five years now, Chatwing and its team of developers have dozens of ideas ready to be introduced to the public. The Chatwing chat app is an easy-to-use online tool that can help web users interact with each other and can also generate continuous traffic. Chatwing will always be a "freemium" application for everyone.