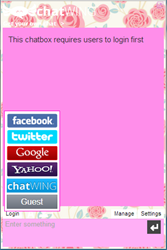 Boston, MA (PRWEB) February 10, 2014
People who are planning of integrating web news in their lives can now use a simple chat app created by Chatwing.com. This application can be installed in just seconds, and it also has the potential to generate high rates of traffic over time. Web news can spread in the chatroom through simple means and social media interaction.
The Chatwing tool operates in real-time and once installed, it will start generating traffic. According to Chatwing Team, the traffic generated on a single website varies from 30-80%. Certain factors are included, such as web content, interaction, social media potential, and many more. Registration in Chatwing chat app database takes only few seconds; afterwards, users can start modifying their first chat apps.
Every user in Chatwing is entitled for unlimited chatroom creation. This is an obvious advantage for all users, since they can commit to multiple marketing strategies. Web news seekers from various niches can use multiple widgets to reach their respective online goals.
In a Chatwing dashboard, users also have the chance to purchase virtual coins. Through these coins, they can avail Chatwing's premium services. These services are secure socket layers, custom subheader, custom logos, additional chat networks, and more guest avatars. For improved chatrooms, users can send a message to Chatwing's website chat software or Facebook page.
More information about the Chatwing chat software is presented in the company's Facebook page. The page is monitored daily by Chatwing developers.
About Chatwing.com
Chatwing.com is a company that has brought innovation to the modern chat widget. Operating for more than five years now, Chatwing and its team of developers have dozens of ideas ready to be introduced to the public. The Chatwing chat app is an easy-to-use online tool that can help web users interact with each other and can also generate continuous traffic. Chatwing will always be a "freemium" application for everyone.