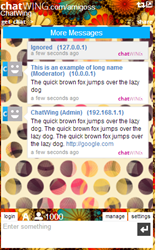 Boston, MA (PRWEB) February 11, 2014
In its latest strategy of improving online communication, Chatwing Development Team has created a new chat app with dynamic features. The application can be embedded to websites and it can also be customized according to the preferences of the user.
Forum owners, especially those who have just started in finding subscribers, can take advantage of the traffic brought by Chatwing chat widget. The application turns a small section of the website into a lounge where visitors can start topic-based discussions. Since online forums are mostly built for rendering solutions and communal improvement, the Chatwing chat app tool can expand the purpose.
As an added leverage, visitors can log in with their social media accounts. Currently, the platform offers these social networking options: Facebook, Twitter, Google, Yahoo, Tumblr, and Instagram. Registered Chatwing users can also use their accounts in the login process. The chatroom owner can also set the allowable login methods in his account dashboard.
Customization is one of the strongly-marketed advantages of the chatbox. Basically, users can choose from hundreds of chatroom themes to start with. These themes have various aesthetic designs that can match all types of websites. Combining colors and sizes in the dashboard can also be done in few minutes. Other functions can also be set accordingly.
By launching the widget into online forums, Chatwing chat software has empowered convergence among all visitors. With this, the proper relay of information can be achieved within limited time period.
About Chatwing.com
Chatwing.com is a company that has brought innovation to the modern chat widget. Operating for more than five years now, Chatwing and its team of developers have dozens of ideas ready to be introduced to the public. The Chatwing chat app is an easy-to-use online tool that can help web users interact with each other and can also generate continuous traffic. Chatwing will always be a "freemium" application for everyone.