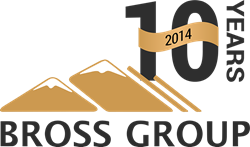 It has been a wonderful decade of achievements.
Lakewood, CO (PRWEB) January 31, 2014
Ten years ago, founder Kathleen Conner, a pioneer in providing methodologies utilizing both business and technical experts in order to solve business challenges through the delivery of IT solutions, set out in a makeshift basement office to build the next great professional company, a company focused on hiring the absolute best, solving complex problems, and delivering 100% customer success.
Ten years ago, Bross Group launched with the mindset it could become a successful company and attract the most talented people in the industry by building technology solutions, while nurturing a corporate culture of collaboration and innovation, without sacrificing a commitment to customers for a standard of excellence. Bross Group has demonstrated its values of exceeding expectations and delivering results. Bross Group looks forward to continuing an environment of team work, solving business problems through technical and a relentless pursuit of client satisfaction.
Because of Bross Group's continued success over 10 years, accolades are many. Some highlights include:

29% increase in total number of clients in 2013
67% increase of employees in 2013
Repeated recognition by the Denver Business Journal in their "Best Places to Work"
Microsoft Gold Certified Partner
Established and ranked as a "Top 100 Woman Owned Company" by ColoradoBiz Magazine
Thousands of successfully completed projects
Chief Executive Officer Conner said, "Bross Group's 10th anniversary is a tremendous milestone for the company. Over the past ten years, we've introduced incredible technological solutions to our clients. I am extremely proud to be leading a team of people who strive for perfection every day and work to build this company. We deliver incredible service and value to our clients."
Conner added, "To Bross Group's employees and customers, past, current and future, it has been a wonderful decade of achievements. I thank you for your dedication and loyalty to Bross Group and our unique corporate culture, and to our commitment of achieving excellence. We've done amazing things together, but the best is still yet to come."
About Bross Group
Bross Group is a premier IT consulting and staffing firm dedicated to helping clients across multiple industries with all of their IT staffing and service requirements. Unique intersections of innovative service delivery and robust practice areas enable clients to leverage the best talent and technology in the industry. The Bross Group product and service model is highly adaptable, intensely customizable and uniquely capable of meeting organization's precise requirements. This specialization assists clients to identify and engage the best IT professionals for all of their managed services, consulting, and direct placement and staff augmentation needs. As a Microsoft Gold Certified partner with extensive SharePoint expertise, as well as years of all-encompassing experience within Business Intelligence, Application Development and Cloud Computing, Bross Group's entry into mobile applications sector will provide unparalleled expertise and precision.
###
For more information about Bross Group IT Services visit http://www.brossgroup.com
Contact: Justin Kraft, Director of Marketing, Bross Group, jkraft(at)brossgroup(dot)com, Ph: 303-945-2700
Bross Group // info(at)brossgroup(dot)com //http://www.brossgroup.com// 12600 W. Colfax Ave., Lakewood CO