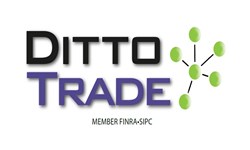 We are very excited about the capabilities of DittoSync, it's a major advance in our proprietary technology to empower the average investor.
Chicago, Illinois (PRWEB) January 29, 2014
Ditto Trade, Inc., a leading innovator in social investing, today announced the launch of DittoSync.
DittoSync allows customers (Followers) to purchase, on a percent for percent basis, all of the same stocks or options currently being held by the person or service (Lead Trader) they are following. The Follower's portfolio becomes instantly synced to the Lead Trader, though their cost basis will reflect the price at the time of syncing. Followers can then take part in all subsequent trades and always have the ability to take control of any position with the click of a button.
The initial DittoSync is free to all new and existing customers for thirty days, no matter how many positions are being synced.
"Three years ago Ditto Trade became the first online broker to harness the power of social investing by allowing individuals to attach to the actual trades of another," said Joseph Fox, CEO of Ditto Trade. "Now for the first time, customers can attach to an existing portfolio even though the trades have already been made."
"DittoSync will allow us to aggressively expand our offerings. This will include professionally managed portfolios, Registered Investment Advisors, as well as user-generated investment groups that are Ditto-enabled. We are very excited about the capabilities of DittoSync, it's a major advance in our proprietary technology to empower the average investor," concluded Fox.
About Ditto Trade
Ditto Trade is a premier social investing firm and the only online broker to allow individuals to participate in the actual trades of experienced investors, advisers, and other trusted relationships. Ditto Trade also enables individuals to execute trade signals from a newsletter or subscription service directly from the Ditto Trade mobile app. Ditto Trade has been featured in many leading financial publications. Ditto Trade is a member of FINRA and SIPC and is a licensed broker-dealer in all 50 states. For more information, go to: http://www.DittoTrade.com.
Free commission offer: All current Ditto Trade customers will get one DittoSync at no charge prior to March 1, 2014. New Ditto Trade customers will get a sync at no cost during their first 30 days of having a funded account. Ditto Trade will credit the commission within 72 hours of the executed DittoSync. This commissions offer does not apply to the $0.75 per option contract charge and is subject to change without notice.
Disclaimer: Ditto Trade does not validate or recommend Lead Traders. Lead Traders are independent of and not affiliated with Ditto Trade. Ditto Trade does not make recommendations regarding the purchase and sale of securities. Options involve risk and are not suitable for all investors. Click here to read Characteristics and Risk of Standard Options.