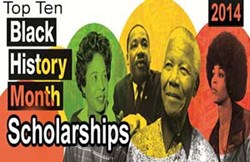 Washington, DC (PRWEB) January 31, 2014
February is here again, and Black History month is being celebrated all around the world. Many television channels have launched special programming for the month, companies have launched special advertising campaigns, and many of their foundations have launched scholarship programs.
Below are the top 10 Black history month scholarships with deadlines in February 2014:
#1 - The Frito-Lay "Create to Celebrate" Black History Month Art Contest encourages applicants to submit online an original piece of art created in any medium (video, song, photo, sculpture, painting, etc) that celebrates African American achievement. They will compete for a chance to win a grand prize of $10,000, second prize of $5,000, or a third prize of $2,500. Applicants must be 18 years or older, and their submission cannot include the likeness of any person, living or dead, without written permission from the person(s) featured. Submissions will be judged on the following criteria: 40% Artistic Talent; 30% Creativity; and 30% Black History Month Theme Cohesion.
Learn more at http://www.scholarshipsonline.org/2014/01/frito-lay-create-to-celebrate-black-history-month-art-contest.html
#2 - The Coca-Cola Pay It Forward Scholarship Program offers scholarship awards and once-in-a-lifetime apprenticeship experiences to African American youth looking to pave the way for their futures. The program is under the umbrella of the Steve and Marjorie Harvey Foundation, and since 2012, the popular talk show host and best-selling author has been providing this opportunity. Partnering with the Coca-Cola Pay It Forward program builds on Harvey's long-term commitment to mentoring youth.
Learn more at http://www.scholarshipsonline.org/2014/01/coca-cola-pay-it-forward-scholarship-program.html
#3 - The RBC Black History Month Student Essay Competition is offered by the Royal Bank of Canada for Canadian students. Three scholarships will be awarded and include a first, second and third prize winner. The essay consists of writing in 750 words or less how black Canadians have contributed toward the heritage of Canada. The essay can include discussion about the achievements of Black Canadians. Essays will be judged by content, organization of thoughts, spelling, grammar and punctuation.
Learn more at http://www.scholarshipsonline.org/2014/01/rbc-black-history-month-student-essay.html
#4 - The 100 Black Men of America Future Leader Scholarship Program is open to high school seniors as well as college freshmen, sophomores, juniors and seniors. To qualify, students must have a grade point average of 2.5 or above. It is also necessary for applicants to have completed 50 hours of community service without compensation within the past 12 months and be able to document their volunteer work. To apply, students will be asked to complete a 600-word essay on one of four topics.
Learn more at http://www.scholarshipsonline.org/2013/12/100-black-men-of-america-future-leader.html
#5 - The Jerry Bartow Scholarship Fund, offered by the Black Executive Exchange Program (BEEP), awards three scholarships each year for undergraduate students who are attending historically black colleges and universities (HBCU). Students must major in business, engineering, technology, or education. Students must be in their sophomore, junior or senior year of college before applying. They must also have a grade point average of 3.0 or above to qualify. The scholarship is for Black (non-Hispanic) students enrolled full-time at a four-year college or university.
Learn more at http://www.scholarshipsonline.org/2013/02/black-executive-exchange-program-jerry.html
#6 - The Kroger "I Can Make History" Contest will award more than $71,000 in prizes in the categories of art, essay, music and poetry. Celebrating Black History month, Kroger, the largest grocery chain in the country, is using the contest to recognize the contributions of African Americans in the past and in the future. Students can choose either to submit artwork, write an essay, compose a song, or create a poem. The contest is open to elementary, middle school, and high school students, grades 4th through 12th. Unfortunately, this is not a national scholarship; It's only available to students in the state of Michigan. Winners of each category will be invited to a special awards luncheon to celebrate their accomplishment.
Learn more at http://www.scholarshipsonline.org/2014/01/kroger-i-can-make-history-contest.html
#7 - The GEICO Achievement Award Program helps current college students who are sophomores and juniors earn scholarship money to complete their education. Eligible students must be enrolled in a business, computer science, or mathematics program. Eligibility requirements include a grade point average of 3.0 or above, enrollment in a four-year college or university, volunteer work in the community as well as demonstrated leadership on campus. Students may major in the areas of Business, Computer Science, Mathematics, Economics, Information Systems, Computer Engineering, Statistics or Actuarial Science.
Learn more at http://www.scholarshipsonline.org/2013/01/geico-achievement-award-program.html
#8 - The Regions Riding Forward Black History Month Scholarship is awarded each year to high school students and college students. Interested students may apply by writing an essay about African-Americans who have inspired them. Regions Bank awards 32 scholarships each year, two in each region where the bank has branches. One scholarship each goes to a high school student planning to attend college, and one scholarship each goes to a current college students. The contest is offered each year during Black History Month to remind students of the important contributions made by African-Americans.
Learn more at http://www.scholarshipsonline.org/2014/01/regions-riding-forward-black-history.html
#9 - LAGRANT Foundation Scholarships are targeted toward minority undergraduate and graduate students, offering scholarships for students interested in careers in advertising, marketing or public relations. Students must be American Indian/Alaska Native, Asian/Pacific Islander, Black (non-Hispanic) or Hispanic. Up to 12 scholarships are offered to graduate students. Graduate students may apply in their freshman, sophomore, junior or senior year, or in graduate school. A grade point average of 3.2 or above is required. Up to 24 scholarships are awarded to undergraduate students who maintain a grade point average of 2.75 or above. All scholarships are renewable.
Learn more at http://www.scholarshipsonline.org/2013/02/lagrant-foundation-scholarships.html
#10 - The Congressional Black Caucus Foundation General Mills Health Scholarship Program is open to both undergraduate and graduate students who plan to major in health-related studies. Academic achievement, leadership qualities and service to the community are required. Eligible fields of study include medicine, engineering, technology, nutrition, or other health-related studies. A grade point average of 2.75 or above is also required. Students must also live in an area where their congressional representative is a member of a Congressional Black Caucus (CBC) district. Students must also enroll in an accredited two-year or four-year college, university, or vocational-technical school.
Learn more at http://www.scholarshipsonline.org/2013/02/congressional-black-caucus-general-mills-health-scholarship.html
Bonus #11 - The Jackie Robinson Foundation Scholarship is for minority high school students in the United States. In addition to a financial grant, the foundation also provides its scholars with mentoring and leadership development opportunities, and internships. To be eligible, all applicants must be graduating seniors and must belong to a minority group (African American, Hispanic American, Asian American, or Native American).
Learn more at http://www.scholarshipsonline.org/2012/03/jackie-robinson-foundation-scholarship.html
ScholarshipsOnline.org is the largest online directory of the latest scholarships and educational grants. To search hundreds of more 2014 scholarships, visit http://www.ScholarshipsOnline.org