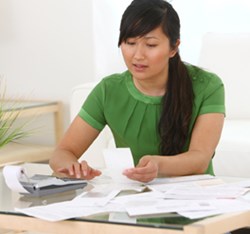 The instruction book for the the one-page Form 1040 EZ is 42 pages long. It's only printed in English.
Virginia Beach, VA (PRWEB) January 30, 2014
The March 2014 edition of Easy English NEWS, a monthly newspaper for immigrants, will devote its central article to making newcomers aware of the laws about paying income tax, and aware of possibly getting a tax refund, available only if they file a tax return. Elizabeth Claire cuts the misnamed "Form 1040 EZ" down to size with explanations and definitions in simple English.
The IRS prints the 1040 forms only in English. The instruction book for the one-page 1040 EZ is 42 pages long. It's also only in English. At the IRS.gov website, there are a few explanations in Spanish, Chinese, Vietnamese, Korean, and Russian. What about help for the other 200 native languages in the immigrant population? As we all know, the long, long sentences with many "if" clauses and conditions are daunting even for native English speakers. Terms such as spouse, dependent, deduction, and adjusted gross income are barriers to handling this one-page form on their own.
How are our newest citizens and residents going to become competent as taxpayers...with no instruction booklets in their language? Where are the trained tax preparers who are bilingual in English and Urdu? In English and Cambodian? What's a new speaker of English to do?
Although most immigrants have noted that taxes are withheld from their paychecks, right now, in the middle of tax preparing season, many of them don't know that they may be entitled to a tax refund. They don't know that they need to file a return to get that refund. They don't know that they may even be entitled to Earned Income Tax Credit.
New residents also don't know that if they don't file a tax return, they may be subject to penalties. They don't know that the penalty for giving false information is a $5,000 fine.
And they don't know about the scams from phony tax preparers, phishing websites, and overcharges.
Because of their vulnerability, immigrants are the most frequently overcharged group for tax preparation services. They are the most frequent victims of misinformation, of scams and of identity theft. Easy English NEWS hopes to lower that frequency.
By using short sentences, controlled vocabulary, and a practice form 1040 EZ in the March edition this year, teacher/publisher Elizabeth Claire provides a comprehensible introduction. She defines 60 essential tax-related vocabulary terms in simple English. These are terms that a second-year English learner is not likely to know, but will encounter in attempting to complete the 1040 EZ. While Claire does not urge readers to do their own taxes at first, she cautions them to carefully choose a tax preparer who can be trusted with their Social Security number, financial details and other personal information.
When a new taxpayer becomes familiar with terms such as dependent, spouse, interest, salary, adjustment, and itemize, he or she will spend far less time with the tax preparer, dread the process less, and be more secure from scammers and con artists.
Elizabeth Claire's Easy English NEWS won the prestigious 2012 Mensa Education and Research Foundation's Intellectual Contribution to Society Award.
In addition to civics education about the workings of the U.S. government, Claire presents -in simple English-- current events, holidays, history, and essential information newcomers want to know about their new country.
Easy English NEWS is sold by subscription to thousands of high school and adult classes for English language learners.
Easy English NEWS has been published for the past 18 years by Elizabeth Claire, Inc, located at 2100 McComas Way, Suite 607, Virginia Beach, VA 23454. You can read a sample newspaper and get more information at elizabethclaire.com.