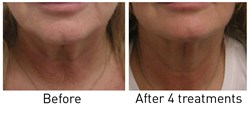 The study showed that Pollogen Hybrid Energy was the preferred technology with 90% of patients satisfied with the results: improved skin tone, no downtime, no pain and no bruising.
Tel Aviv, Israel (PRWEB) January 30, 2014
Pollogen Ltd. announced today that Drs. Dvora Ancona and Silvia Pagogna of the Juva Medical Center in Milan will present their research, entitled "Microneedles radiofrequency in the treatment of neck wrinkles and skin laxity," at the IMCAS conference on Saturday, February 1st in Paris, France. In the study, two groups of patients were treated using different micro needle fractional radio frequency devices: Pollogen Hybrid Energy and another RF technology. The aim of the study was to evaluate the efficacy, safety and satisfaction of patients treated by the two different procedures.
One group (Group A) was treated with micro pins delivering Hybrid Energy and the second group (Group B) used micro needles delivered by standard fractional radiofrequency (MFR).
Results of the study showed that patients treated with Pollogen Hybrid Energy had improved skin tightness and elasticity. Although 80% of patients in Group B were satisfied with the results, they complained of pain, skin redness and bruising and downtime was usually 3 days following treatment. Drs. Ancona and Pagogna's study showed that Pollogen Hybrid Energy was the preferred technology with 90% of patients in Group A satisfied with the results: improved skin tone, no downtime, no pain and no bruising.
Hybrid Energy technology is a breakthrough anti-aging technology. This procedure utilizes the body's natural mechanisms to induce an increased production of hyaluronic acid, collagen regeneration and elastin growth. Hybrid Energy combines two types of energies which deliver thermal and cold ablation to the skin via an array of fine micro-pins. This procedure is non-surgical, with minimal discomfort and no downtime. It is suitable for all skin types and colors and can be performed in a convenient 'walk in-walk out' procedure with a minimal epidermal response. Results are significant and natural-looking.
Mr. Amichai Bar-Nir, CEO of Pollogen: "We are very excited that the distinguished Drs. Ancona and Pagogna will be presenting Hybrid Energy at the International Master Course on Aging Skin in Paris, France. Pollogen is continuously listening to the demands of the market to deliver solutions for superior aesthetic results. The innovative Hybrid Energy technology with thermal and cold ablation energies, provides a breakthrough answer for volume refilling, wrinkle reduction and skin rejuvenation all with a simple, virtually painless 'walk in – walk out' procedure. We are confident that it will quickly become an industry gold standard."
About Pollogen
We believe in constantly challenging ourselves to create the most advanced, effective medical aesthetic technologies and solutions. We believe in thinking differently.
In everything we do, we take a customer-centric approach by making our products user-friendly, safe and convenient. At Pollogen there is no such word as "done"; we continually perfect our solutions to provide treatments that are pleasant and effective. We believe in finding ways to develop technologies that work with the body's natural mechanisms so beautiful results are generated from within.
Pollogen is the developer and manufacturer of five revolutionary technologies under the industry premier brand names OxyGeneo™, Hybrid Energy™, TriPollar®, TriLipo® and TriFractional™. We offer a full line of clinically-proven, safe and effective, non-invasive anti-aging facial and body contouring treatment platforms for a wide range of aesthetic applications. Pollogen provides solutions for professionals in over 60 countries, addressing the specific needs and dynamic changes unique to the ever-evolving aesthetic industry.