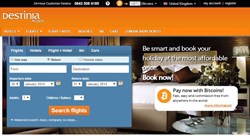 Destinia is now the largest e-commerce company in Europe to accept Bitcoins.
Madrid, Spain (PRWEB UK) 30 January 2014
The online travel agency, Destinia, with global headquarters in Madrid, Spain, is the first travel agency in the world to accept payments using bitcoins for both hotel accommodation and airline tickets. Destinia is also now the largest e-commerce company in Europe to accept Bitcoins.
As from today, all of its services may be purchased through this virtual currency in 25 languages and from any location on the planet. Destinia thus becomes the first worldwide online travel agency to allow its customers to use bitcoins for their payments, and Europe's largest company accepting this virtual currency.
Payments in bitcoins are done securely and directly. The purchasing process is identical to any other payment method and it is simple, immediate, and commission-free.
Amuda Goueli, Destinia's CEO, expressed his total trust in the bitcoin: "This payment method is an innovative and secure model that benefits companies and consumers. They save on banking costs, resulting in that we can offer them a cheaper service."
"It is just as revolutionary as the Internet itself was twenty years ago," assured the company's CEO.
To make it easier for customers to understand the prices, Destinia shows prices in milibitcoins (mBTC). One Bitcoin is equivalent to a thousand milibitcoins.
About Destinia:
Established 12 years ago, Destinia is a pioneering online travel agency in the implementation of technological innovation within the e-commerce sector in Spain. With over a million customers, and offering more than 230,000 hotels, Destinia is one of the country's top companies in its sector. Today it operates worldwide with major expansion in the Middle East.